Nikita Boro, is a 12 year old girl, from Guwahati, who has set a trademark in the live singing reality competition, 'Rising Star', aired in Colors TV. She has secured 95%, from the audience and the expert panel and proceeded to the next level in the competition. She has impressed everyone with her beautiful voice and mesmerised with a melodious song 'Sawaar Loon' from the movie 'Lootera'.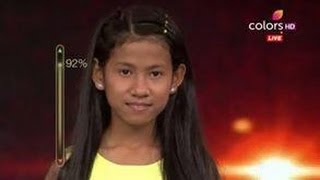 She has also proceeded to the next level, by beating Anmol Sharma in the 'Duels Round', where she secured 92% and Anmol also gave a close competition by securing 90%. In the 'Red Sofa round', she scored 84% and will be proceeding to the next rounds. She is giving a tough competition for all the other contestant, in such a young age.
The audience, who are the judges of the performance are enthralled by the Kid's talent and singing style. The expert panel including Shankar Mahadevan, Monali Thakur and Diljit Dosanjh are also equally impressed with her top-notch performance.
For her talent and beautiful voice, in such a young age, many people wish that she will secure the grand title of the Rising Star. However, we have wait till the end of the series to see the audience choice and expert panel's choice. Since there is a close competition between many contestant, lets hope our Nikita can withstand and give outstanding performance in the upcoming rounds.
Nikita Boro Biography:
Name: Nikita Boro
Nick Name: Nikita
Age: 12 years
Debut performance: Rising Star, 2017
We will soon update you with more personal details about the contestant. Please Stay Tuned!