Saraswati Puja is celebrated On 1'st February 2017, Wednesday. Vasant Panchami Puja Tithi will be puja muhurta will be started in between 7:13 AM to 12:35 PM. If you will start Puja in between this time, it will be very fruitful to you and to your family.
On Vasant Panchami we usually Worship to Devi Saraswati, this day is dedicated to Maa Saraswati. Saraswati is the Goddess of Arts, science, music, knowledge and technology. So every student must do this Puja in their home, school, Office etc… to bring prosperity in their lives.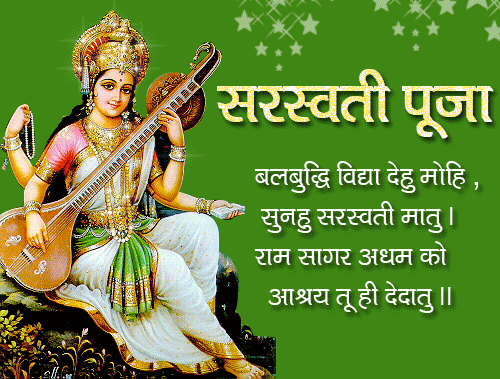 In this Festival Most of the Parents initiate education to their kids and its commonly known as Akshyara Abhyash or Vidya Arambham, it's One of the famous rituals of Vasant Panchami festival.
Many School, Colleges, Education Institutions perform this puja to get blessings of Goddess Saraswati.
Here is a Saraswati Vandana, you need to Chant it 3 times while offering Puspanjali: