Vasant Panchami, is a Hindu Spring festival, which is observed on the fifth day of the Indian traditional month, 'Magha'. This festive tends to vary in time and falls in the months of January or February. This festival celebrations and rituals differ from place to place. During this festival, Goddess Saraswati is worshiped for knowledge and wisdom. Including this, on this auspicious day, parents organize a ritual, where they teach their kids to write on a plate full of rice grain. In some parts of our country, they celebrate this festival as celebration of love, by worshiping the Lord of Love, God Kama. They celebrate it with spring flowers and it is described as the Hindu form of Valentine's Day.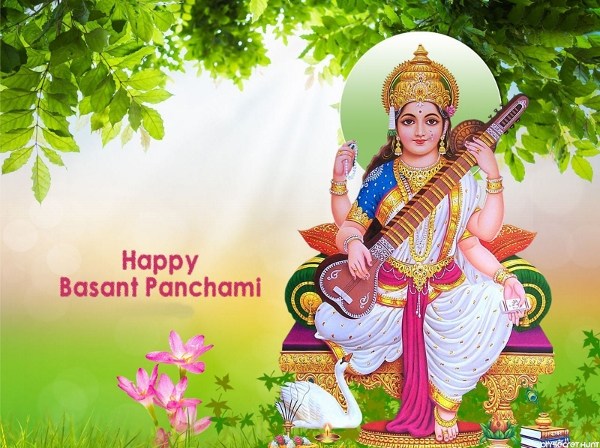 In addition to these celebrations, this festival also marks the beginning of the preparation for Holi, which is a colorful festival of Hindus.
Rituals and Celebrations of Vasant Panchami 2018:
The name meaning of the Vasant Panchami is the Fifth day of Spring Season, where Vasant refers to the 'Spring' and Panchami refers to the 'Fifth Day'. During this festive, Northern parts of the country face winter season, however, Central and Western parts of India faces Spring Season. This festival is celebrated mainly in the Northern, Central and Western parts of the Country. Including Hindus, it is also a traditional festival of Sikhs.
It is believed that Goddess Saraswati, the Goddess of Knowledge, Music, Arts and Wisdom was born on this auspicious day. In addition to this, it is also believed that Lord Brahma created our universe on this special day. This is celebrated in the Spring Season, since it is considered as the season for Rebirth and Renewal. It is also considered that it is good luck for wearing yellow dress and eating yellow rice on this day.
In many parts of our country, people begin new work on this day and in some northern parts of the country like Punjab and Bihar, it is celebrated as the festival of kites. In Rajasthan, people wear garland made of jasmine on this day. The idol of Goddess Saraswati is dressed in yellow colour and decorated with yellow flowers and they also prepare sweets to present Goddess on this special day.
Date, Puja Time and Muhurat of Vasant Panchami 2018: 
This festival differs each year, since this festival is celebrated according to the Gregorian calendar. Usually this festival is celebrated on the fifth day of the Spring season.
Date: Monday, January 22nd, 2018
Puja Time: 06:56 – 12:32

Duration: 5 Hours and 35 minutes

Panchami Thithi begins on: 15:33 on January 21, 2018
Panchami Thithi Ends on: 16:24 on January 22, 2018
Even though, there is no specific time required to perform this puja, it is usually performed during the time period between Sunrise and midday.