Govardhan Puja, is a Hindu festival, which is also known by the names Annakoot, literally translated as 'A mountain of Food'. During this festival large varieties of vegetarian food is being prepared by the devotees and is presented to the Universal God, representing Lord Vishnu, who is also known as Paramatma. This festival is celebrated for acknowledging the incident, when Lord Krishna, an avatar of Lord Vishnu, lifted the Govardhan hill, in order to provide shelter to the villagers, from uncontrollable rain. This incident is also mentioned in the 'Bhagavata Purana'. With this incident, it is depicted that the God will protect all his followers, if they have complete faith in him.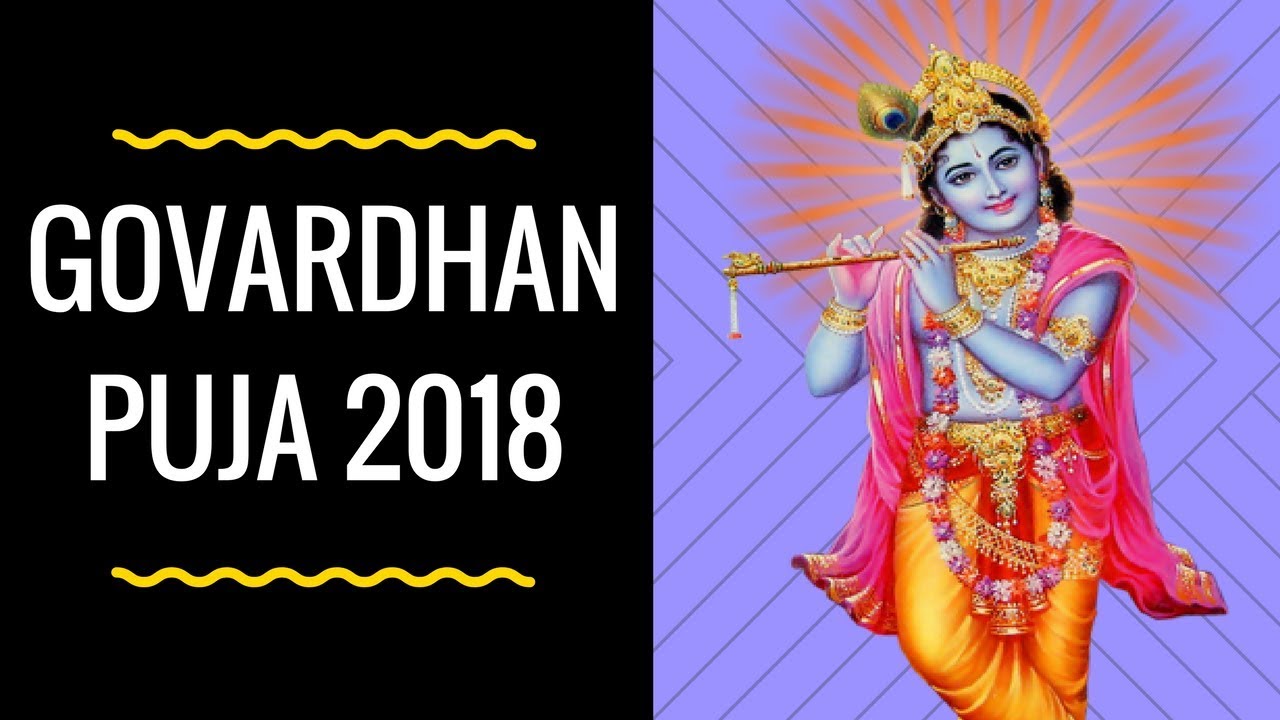 This festival is celebrated on the first lunar day of the month 'Kartik' and this is the first lunar day of Shukla Paksha. This festival falls four days from the major Hindu festival 'Diwali'. On this special day, devotees present God with mountainous food, representing the Govardhan Hill.
Rituals and Celebrations of Govardhan Puja 2018:
It is believed that, in ancient times, cowherds, who were living close to the Govardhan Hill, used to celebrate autumn season by worshipping Lord Indra, God of Rain and Storm. During this time, Lord Krishna advised them to worship the Govardhan Hill instead, since it provides all the resources for their livelihood. Taking Lord Krishna's advise, village peoples devotion turned towards the mountain and Lord Indra was angry towards them, since their devotion diverted away. So that he initiated thunderstorms and heavy rains, in these area. In order to protect the people from this weather, Lord Krishna lifted up the Govardhan Hill, with his little finger and villagers found refugee, under the mount. After a week of continuous rain and storm, Lord Indra realised his mistake and accepted his defeated. This day is celebrated for paying respect to the Govardhan Hill, that protected them during the needy times.
People follow ritual like making small mount of cow dung and decorate it with flowers and worship it as Govardhan Hill. Including this Lord Govardhan is also worshipped. This festival is for acknowledging the main incident of Lord Krishna lifting the Govardhan Hill.
Date, Puja Time and Muhrat of Govardhan Puja 2018:
Since this festival falls in the month of Kartik, according to the Hindu calendar, it tends to change according to the Gregorian calendar. This festival usually falls in the month of October or November.
Date: Thursday, November 8th, 2018
Govardhan Puja Pratahkal Muhrat: 06:11 – 08:54

Duration: 2 Hours 43 minutes

Govardhan Puja Sayankal Muhrat: 17:04 – 19:47

Duration: 2 Hours 43 minutes