Band Baaja Bride with Sabyasachi Mukherjee is a show for young Indian brides and this show has successfully stepped into its eighth season. The Indian fashion designer Sabyasachi presents this show and transforms young brides into beautiful divas, with his single touch. He has also designed costumes for many Bollywood movies like Guzaarish, Baabul, Raavan and English Vinglish. This show is presented by NDTV Goodtimes. Brides who are getting married between November 2017 to May 2018, can register to participate in this show. This is a great opportunity which is up for grabs for all the young spinsters, who are dreaming about having a fairy tale wedding.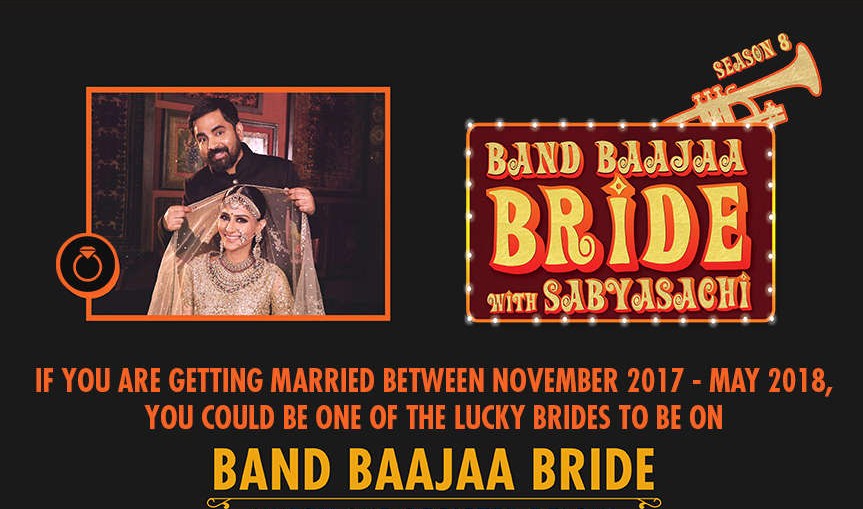 In this article, we are discussing the registration and audition details.
Online Registration Details: 
Brides who are getting married within the time frame of November 2017 to May 2018 can register their details, by clicking the below link: http://www.goodtimestv.in/bbb8 
On this page, fill in the mandatory details like Name, Age, Address, Phone number, Email ID, Height, Photo (Full length and Close-up) and Date of Wedding. Including this, you also can provide information about When you and your fiancée met, Family background, Style of wedding and ceremonies present and nominated by. 
Once you provide all the information, read the terms and conditions of the show and select the checkbox and click on the 'SUBMIT' button. Your details will be registered and you will be provided with a registration number. 
Proof Required: 
Passport
Birth Certificate
Driver's License
Eligibility Criteria: 
Should be an Indian citizen
Full 3 days has to be given for makeovers, in addition to the wedding day.
The entire ceremony will be filmed, acceptance from the parent's and relatives are a must.
The participant should be above 18 years of age.
We will update any further information regarding the show has been released on the official website. Please stay tuned!