Bannet Dosanjh, is a 23 year old contestant, from Jalandhar, who gave an amazing performance of 'Challa' in the audition round and scored 93%, in the Live singing reality competition, Rising Star, aired on Colors TV. He advanced to the further level, after clearing the audition. He is a talented singer with a melodious voice.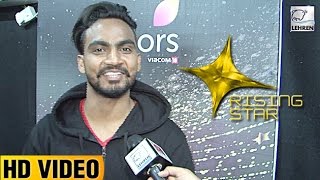 In the round 2, Duels Round, he contested against Sukhdeep Gharu, who gave a very close competition and missed the chance to proceed only by .05%. Bannet scored 92.91%, whereas the other contestant scored 92.86% and lost. Bannet, proceeded to the next round, 'Red Sofa Elimination' round and performed on Dard-E-Disco song and scored 94%, making it to the 'Top 14' in the competition.
Rising Star, is a Live singing reality competition, where the performance of the audience are aired Live and the audience who has downloaded the mobile app, can cast their vote in real time. The audiences are the judges of this competition, however, the decision of the expert panel are also taken into consideration.
Bannet is already a well known face from the show, 'Voice of Punjab, Season 5', where he has made it to the finals. However, he was not able to make it through and win the title. Now, he is all set and ready to win the title in Rising Star competition. Till now, he has given an outstanding performance in the last three rounds. He has to give his best in the upcoming rounds as well.
Bannet Dosanjh Biography:
Name: Bannet Dosanjh
Nick Name: Bannet
Age: 23 years
Place: Jalandhar, Punjab
Height: 5'9" (approx)
Profession: Singer
Debut Performance: Voice of Punjab, Season 5
We will update you with more personal details about contestant. Stay Tuned!