Bihar is the "Land of Buddha" and the religious and cultural center of India. The state's diverse population and the religious sites that attract pilgrims have each left their mark on the local culture.
Madhubani paintings, ornaments, wall hangings, stone pottery, appliqué work, leather goods, & traditional Bihari garments are all well-known exports from the state.
The state welcomes people of all faiths, but there is no sectarianism in its traditional clothing.
Typical Bihari attire consists of kurtas and pajamas (or dhotis) for men and sarees (or lehengas) for women.
Learn all about the men's and women's traditional clothing of Bihar right here!
Traditional dress of Men in Bihar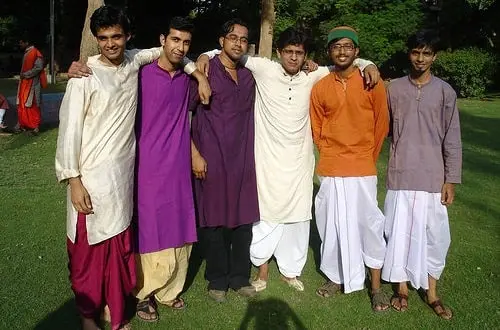 Dhoti Mirjai
Men in Bihar typically wear a version of the kurta and dhoti style known as dhoti mirjai.
Older men in Bihar often wear kurtas with dhotis or lungis. Males of middle age wear it too, not only young males.
Cotton is used for the most common styles, and men use them on a daily basis. The more elaborate ones, however, are reserved for special events like weddings.
The former are lightweight and easy to wear, while the later feature elaborate decorative work such as borders and heavy embroidery.
Kurta or Pyjama
Bihari men often dress in kurtas and pajamas.
Men in Bihar regularly don this traditional outfit since it is considered amongst the most relaxed clothes a man can wear.
The length of a kurta is often above the knee. Cotton, silk, and other fabrics are used in its construction.
Fancy kurtas often feature elaborate embroidery in the shape of chikan motifs, while other simple designs feature only barely embroidered borders or motifs.
Men dress up in formal kurtas for weddings, festivals, and religious ceremonies.
Pajamas are the standard cotton bottoms worn with the kurta. This Bihar outfit represents as often worn garments across most of India because of how authentically traditional it seems.
Lungi
The lungi is a popular bottoms choice because of its reputation for comfort. It's a common sight in many different regions and cities, although it originated in Bihar. Men wear lungis widely from northern to southern hemispheres. In several regions, women also wear this sort of clothing casually. One of the reasons for the lungi's widespread acceptance is the exceptional ease with which it can be worn. This fabric relies heavily on cotton.
It is an ethnic style of loose clothing that is worn by wrapping them around the legs & tying them in a knot at the waist. It flatters a wide range of physiques.
Sherwani
In Bihar, males wear sherwanis for celebrations. It is reserved for special events like weddings.
Both the pajama-like dhoti pants and the knee- or calves-length jacket with embroidery make up a sherwani.
The top half (the jacket) comes in a wide variety of cuts, fabrics, and colors. Heavy, complex ornamentation is sometimes added to further elevate its aesthetic status.
The jacket is worn with loose-fitting pajamas, dhoti pants, or choodidars. This traditional garment from Bihar appears to be quite attractive.
Traditional dress of Women in Bihar
Tussar silk saree
It is a traditional and widely-loved piece of clothing in Bihar. The saree is a symbol of feminine pride for many women and girls. This saree is quite popular among women because of its distinctive and vividly colored design.
 Tussar is also widely recognized as a style that transcends time periods. Such creative clothing has been around since prehistoric times. Women wear the garments in the same manner as a traditional saree, with the exception that the pallu is traditionally draped over the shoulder.
This saree was traditionally woven from silk and cotton, but thanks to years of refinement, it now comes in a variety of fabrics. The wide embroidery throughout the saree's borders is the focal point. The saree's pallu also has a unique construction.
Saree-lehnega
Women often don this hybrid of the Saree and the Lehenga when attending formal events. This outfit is perfect for any special occasion, from weddings to festivals. There are many different styles and colors to choose from.
This outfit has the same base as a lehenga but is worn with the pallu already attached. That's why you hear it referred to as a saree-lehenga.
Panchlari
Wearing the right accessories can make or break an outfit, and everyone knows that. Panchlari is known as an ornament worn by women on certain occasions, most notably when they take on the role of bride. It's a 5-strand gold necklace with a classic design.
Conclusion
While it's true that Bihar is often used as an example of the country's backwardness, the state is not without its merits. Men and women in Bihar pay special attention to maintaining cultural norms when selecting their clothing and all their traditional wear signifies their culture and heritage.