Express trains are India's fastest option for rail travel. Express trains in India only stop at major stations. This makes travel time more efficient compared to using local trains which stop at every station along the way.
All other trains in India can't match the speeds achieved by India's Express Trains because of their limited stopping times.
When it comes to train networks, India's is the third largest and farthest reaching in the world. The Indian government's Railway Ministry developed the country's quickest train so it can transport large number of people every day without sacrificing speed. Additionally, the railways are developing meals on commuter trains and working tirelessly to meet the demand.
Check out the list of top 10 fastest trains in India 2023 below:
List of top 10 fastest trains in India 2023
| | |
| --- | --- |
| Train Name | Speed (km/hr) |
| Vande Bharat Express | 180 |
| Gatiman express | 160 |
| Shatapdi express Vande Bharat Express | 150 |
| Rajdhani express (Mumbai-New Delhi) | 140 |
| Rajdhani express (New Delhi-Howrah) | 135 |
| Sampark Kranti | 110 |
| Garib Rath | 130 |
| AC double decker (Mumbai central-Ahmedabad) | 130 |
| Duronto express (New Delhi-Howrah, New Delhi-Allahabad) | 130 |
| Tejas express | 130 |
1. Vande Bharat Express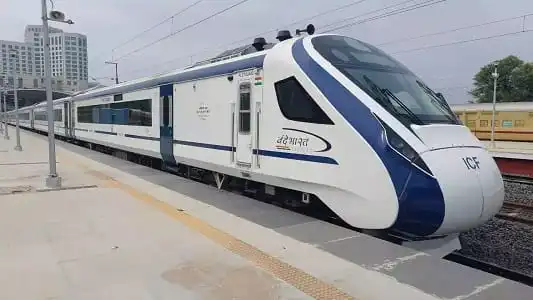 In India, the quickest train is the Vande Bharat Express. In terms of speed, it may reach 180 kilometers per hour. ICF, which is part of "Make in India" program, is responsible for the manufacturing & design of the train. Delhi-Katra & Delhi-Varanasi are the control points for the train. The train is capable of speeds up to 200 km/h, however the current rail infrastructure is unable to handle this high speed.
2. Gatiman Express
This bullet train travels the 188 kilometers between New Agra and Delhi in under 1 hour and 40 minutes. It connects two of India's most popular tourist spots and travels at a lightning-fast 160 kilometers per hour. This train is the quickest in India and features amenities such as smoke alarms, bio-toilets, automated sliding doors, and passenger information system which is GPS based.
Similar to flight attendants, there are hostesses on board. Additionally, guests can use the complimentary Wi-Fi and watch a variety of different types of media. North Indian and South Indian cuisines include vegetarian and non-vegetarian options, respectively.
3. Shatabdi express (New Delhi-Bhopal)
The New Delhi–Bhopal Shatabdi Express is India's second-fastest train, travelling at a top speed of 150 km/h. It travels 707 kilometers from your Delhi to Bhopal in Madhya Pradesh. Shatabdi means "centenary" in Persian. For the 100th anniversary of Jawaharlal Nehru's birth, the railway minister at the time, Madhavrao Scindia, came up with the idea and implemented it that same year (1988). Snacks, coffee/tea, lunches, and a liter bottle of water/300 milliliters of bottled water are all available to passengers, and the cabin is comfortably air conditioned. The cost of food is included in the ticket price.
4. Rajdhani express (Mumbai-New Delhi)
Third place is shared by two trains, both of which go at an incredible 140 kilometers per hour: the Mumbai–New Delhi this Rajdhani Express & also the New Delhi–Kanpur this Shatabdi Express. You can purchase bottled water, coffee, tea, soup, dinners, and ice cream on both trains.
5. Rajdhani express (New Delhi-Howrah)
Both the New Delhi–Howrah Rajdhani Express as well as the New Delhi–Sealdah Duronto Express share fastest train place on India's list of fastest trains. Both of them travel at 135 kilometers per hour. The Howrah Rajdhani is the most famous of the Rajdhani trains and travels a total of 1450 kilometers. In India, it was the very first train to have full air conditioning.
 Tea, lunchtime, tea time, dinner, and breakfast are offered on the train, depending on the time of day. This bullet train connects Kolkata with New Delhi and passes close to several sacred locations, including Allahabad, Gaya, and Parasnath.
By contrast, the Duronto Express New Delhi–Sealdah travels a total of 1457 kilometres. All of your food, drink, and beverage needs will be met.
6. Sampark Kranti
The Indian Railways had come up with a brand-new concept for high-speed trains that could be accessible for any Indian resident. Trains like the Rajdhani and the Jan Shatabdi express are at the top of the list of speedy options, but they are prohibitively expensive due to the lack of air conditioning in the coaches.
As its name suggests, Sampark Kranti is a part of the communication revolution that makes it possible for each passenger to afford transportation to a different region of India. The train can travel at up to 110 kilometers per hour and stops at only three stations along the route. When your train stops at a station, there are lot of small hawkers and traders who are ready to serve you a meal. So, if you want to avoid becoming hungry on your trip, just place an order with them.
7. Garib Rath (H.Nizammudin- Bandra)
One of India's quickest trains, this Bandra Garib Rath travels 130 kilometers per hour over a distance of 1367 kilometers. The fastest of the Garib Rath express trains, this one does not even stop for food. Garib Rath was established to subsidize long-distance air-conditioned rail travel for people who could not otherwise afford to ride the more common air-conditioned trains. There are more people per bus and the berths and chairs are narrower.
8. AC double decker (Mumbai central-Ahmedabad)
The AC Double Decker from Mumbai Central to Ahmedabad travels at a blistering 130 kilometers per hour across a range of 491 kilometers. The train operates six days a week, once a day. The train became the first branded train on the Indian Railway system in 2017 when its bodywork was wrapped in vinyl advertising. Savlon Swasth Bharat Mission advertisements promoted the Savlon soap brand in that year.
9. Duronto express (New Delhi-Howrah, New Delhi-Allahabad)
The Howrah Duronto Express travels 1450 km, the Allahabad Duronto Express travels 632 km, all at speeds of 120-130 km/h.
Howrah Duronto Express travels from Kolkata to New Delhi via the Grand Chord. The service connects the two cities continuously. It's the fastest train and they provide you free food, soup, water, and tea.
There is only one technical stop, at Tundla Junction, on the route taken by the Allahabad's Duronto Express between Allahabad & New Delhi. There is no pantry coach on this train.
10. Tejas express
The Tejas express is the next semi-high-speed train to join the ranks, following in the footsteps of the Vande Bharat express & the Gatimaan express. The train has state-of-the-art amenities and fixtures like automatic doors.
Rail passengers will find the entire Tejas express experience to be amazing.
The  Rajdhani Express Agartala–Anand Vihar has recently been rechristened as the Tejas Rajdhani special after receiving an upgrade to a Tejas–style sleeper rake. The train departs on Monday evening from Anand Vihar and reaches in Agartala early Friday morning. This timetable used to be occupied by the venerable Rajdhani between Agartala and Delhi's Anand Vihar Station (Delhi). This was the first Tejas express train to offer overnight accommodations in the country.
Conclusion
The Indian Railway is always striving to improve and expand the country's rail system, which is the fourth largest in the world. Efforts are always being made to upgrade this Indian Railways system with the latest models, designs, and technologies to make travel on the network more convenient and comfortable for passengers.
The reliability of a railway system is contingent upon the caliber of its trains. One of the most important aspects in determining a train's quality is its speed.
In most cases, people want to get where they're going as quickly as possible. This means there is a significant need for fast rail services. There are only a few of high-speed trains in India, yet they allow people from all across the country to travel quickly and easily across great distances.