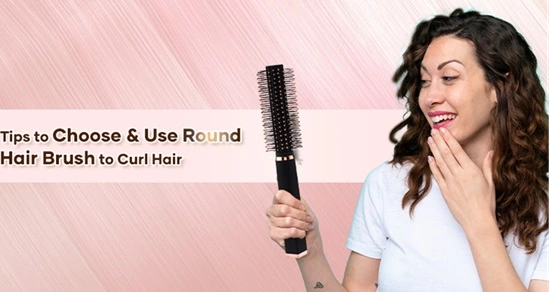 Round hair brushes are a game changer when it comes to hair styling. It is a versatile styling tool that helps attain gorgeous curls with minimal effort. Mastering the art of hair styling using a round hair brush may sound difficult and like a far-fetched dream that is only achieved at salons. But we are here to help. You can get beautifully shaped curls by using the right round brush and the right technique.
At Vega, we have a wide range of Hot Curl Brushes and round hair brushes to meet the needs of different types of hair and texture. As picking the right hair brush is the first step towards attaining gorgeous curls, you can pick yours from the vast selection and create stunning curls at home with less or no heat at all. So, without further delay, let us get started by first learning how to choose the right round brush.
Choosing the right round brush depends on: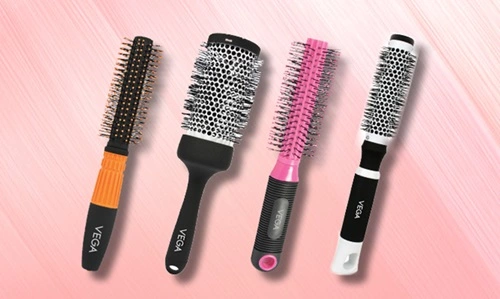 Hair Length & type of curl desired – A lot of hair styling depends on hair length and the type of curl you want for yourself. If you have short hair and require more defined curls, choose a round hair brush with a small barrel diameter. If you have shoulder-length hair and beyond, then a brush with a big barrel diameter helps create flowing curls.
Barrel type: Curling brushes also come with two barrels kinds, plastic and ceramic coated barrel which are ideal to be used with heat appliances such as a hair dryer.
Bristle Type – Always pick a round hair brush with nylon ball-tipped bristles as they are gentle on the scalp and stimulate natural oils. They are considered good for hairstyling and help glide effortlessly without getting tangled in your hair.
Grip – The grip of the brush is also an important aspect of the round brushes which often gets missed. An ergonomically designed brush and handle, such as the Vega round hair brushes, help hold the round brush right while styling. A better grip enables good hairstyling with minimal strain on the hands and doesn't let the brush slip while styling.
Once you have chosen the right round brush, you must follow a few steps before styling your hair to accentuate your hairstyle effortlessly:
Keep your hair clean and free from excess buildup of dust or other irritants. Use a gentle shampoo and conditioner appropriate for your hair type. Towel-dry your hair partially, so that it doesn't have water dripping from the hair strands.
Section your hair & dry roots first
Detangle your wet hair using a Vega detangling brush and divide it into sections. Work on one section at a time to ensure that your scalp is thoroughly dry before styling.
Apply a serum to your hair before applying the heat of a blow dryer. Vega Nature Care Hair Serum is the perfect protective hair smoothening serum with the goodness of 5 active natural ingredients such as Bhringraj extract, Olive extract, Amla extract, Castor Oil and Vitamin E.
How to Use a Round Brush to Style Hair
You should pick a round brush to create gorgeous curls depending upon the process. For instance:
Hair curling without heat
To curl your hair without using any heat appliances, ensure that your hair is damp. Then, hold your round brush vertically, keeping the handle down. Carefully twist your hair around the barrel and maintain a slight tension. Twist your hair off the round brush and repeat till you get the desired curl shape.
Hair Curling with heat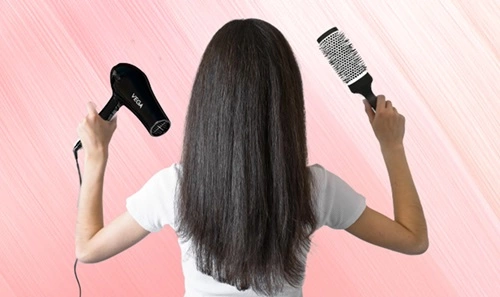 The perfect natural curls can be attained using a hot curl brush and a hair dryer. The Vega Pro‐Touch 1800‐2000W hair dryer can be your choice of hair dryer when it comes to creating voluminous curls. The powerful AC motor and faster airflow help you to get smooth and trendy curls in just a few minutes!
Simply begin with the round brush at the roots and roll down to the ends while using the blow dryer. Ensure that you direct the brush away from your face and hold the hair dryer towards the hot curl brush.
Key Takeaway
Gorgeous curls are no longer a distant dream. It is now a reality that you can live in. Create your style and your curls with the right tools. If you are looking to create curls that lasts longer and are quicker to create, it is suggested to use hot curl brushes and a hair dryer. So, wait no further and choose from our wide range of products at Vega and flaunt your curls with great style and confidence.