One of the 7 Sisters of the North East, Assam is a stunning region. The people of Assam take great satisfaction in the elaboration of their culture, and the state itself is a burgeoning one. Not only do the calm countryside and verdant forests of this state attest to its attractiveness, but so do the inhabitants in their traditional garb.
 Our ancestors' legacy travels to us in the form of tradition, and these folks have done a beautiful job of keeping the torch burning in the correct direction. Take a look at these stunning wear that worn traditionally by men and women of Assam.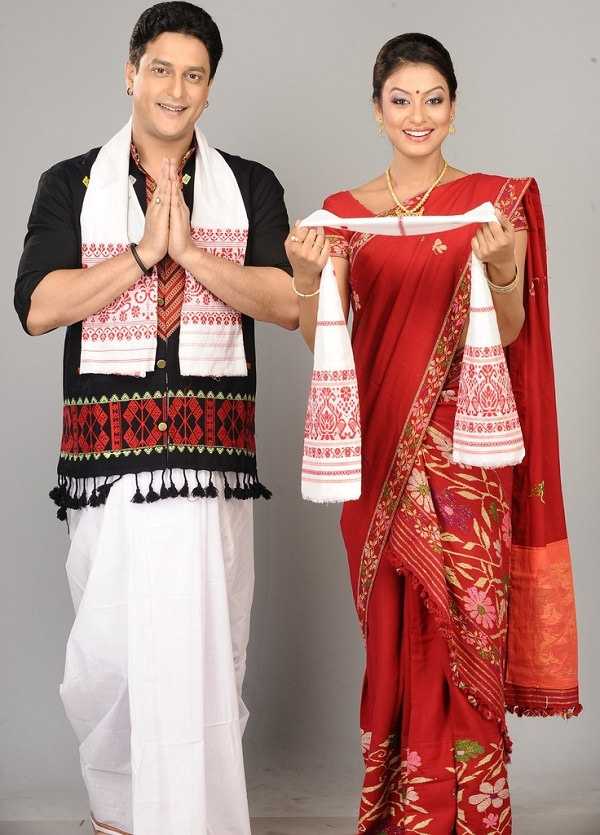 Traditional wear for men of Assam
Tongali
Men & young boys in Assam traditionally dress in this manner. The item in question is a belt-like waistcloth. In the Bihu dance, the Tongali plays a key role.
Other than working as farmers or fisherman, the indigenous citizens of Assam traditionally wore this as a loincloth. This belt-like strap can be used to secure either a shirt or a dhoti.
Dhoti
It is a long garment that is worn from the waist down. Fabrics in shades of white, cream, and yellow are frequently used. This five-yard-long loincloth wraps around the lower body and legs completely. The dhoti is tied in a knot at the hip.
The dhoti is worn with one end tucked into the belt at the hip. It's made of a breezy cotton fabric, and it's sometimes confused with a Lungi. Assamese men frequently don the dhoti during religious ceremonies.
Kurta
The Kurta, a style of clothing with its roots in Sanskrit, is widely worn and accepted around the world. It's a long, flowy shirt that hits at or just below the knees. It's versatile enough to be worn to both business and social events.
During the warmer months, a kurta might be constructed from a lightweight fabric like cotton or silk, whereas in the cooler months, a heftier fabric as Khadi or wool might be used. Kurta isn't a typical garment worn in Assam, but it is nonetheless culturally significant there.
Paghuri
The Assamese men's traditional garment, the Paghuri, is reserved for solemn events. This garment represents the reformed Hinduism (neo-Vaishnavism) from which it originates.
Sattriya dancers typically wear paghuri. Neo Vaishnavs also wear paghuri to their cultural events.
Traditional dress for women in Assam
Chadar or Sador
The Sador, also known as the Chadar, is a long garment that is slung over the wearer's left shoulder and then crossed at the right lower waist. Colors, patterns, and visuals can all be customized.
The women of Assam traditionally wear this as their primary garment. Common materials include Muga, cotton, and silk.
Mekhela
Mekhela is clothing that is tubular from the top waist to the lower foot. Cotton, Muga, Eri silk, & Pat silk are frequently used to create this classic Assamese attire.
However, cotton made mekhela is the most popular since it is inexpensive and easy to find in a wide variety of styles and colors. Assamese ladies use handcrafted handlooms to create this.
Both Sador and Mekhela hold significant meaning in Assamese society. The upper section is the Chador, and the lower is the Mekhela.
It comes in a wide variety of patterns, some of which feature depictions of birds, flowers, trees, leaf and other natural designs.
Blouse
Blouses are well-fitted tops that complement traditional or ethnic dresses and give women an air of sophistication. A wide variety of collar and sleeve styles, as well as graphics and prints, are at your disposal. Women in Assam typically dress in modest blouses.
Although the blouse isn't a typical article of clothing for women in Assam, it is worn all over the world. However, it is considered part of the traditional dress for ladies in Assam.
Assamese women's traditional clothing is incomplete without the blouse, which is required for wearing the mekhela and sador.
Riha
The Riha is a portion of Assamese traditional clothing that is only worn on exceptional occasions, such as during religious festivals. This is commonly worn for religious ceremonies like Anna Prashan and Namghar prayers.
The Mekhela chador and the Riha are both essential components of the Assamese bridal trousseau. The Riha mekhela, with its abundance of intricate patterns, is a stunning garment.
Gamusa
The Gamusa is the most important and widely recognized kind of Assamese traditional attire.  Gamusa is a size in between, and it's really useful apparel. It has a neck strap as well as a waist tie. Its typical hue is white, and it features red designs.
Men and women alike can wear gamusa because of its gender-neutral design.
Conclusion
The people of Assam are united by their shared cultural background, which is represented in their dress. The unique forms of Assamese fashion may make anyone feel beautiful, regardless of their cultural background.