Laos, officially called Lao People's Democratic Republic, is situated in Southeast Asia. This non-coastal country is the only region fenced by Vietnam, China, Thailand, Myanmar, and Cambodia. In terms of linguistic and ethnic groups, Laos is thoroughly versatile.
However, people living in Lao share the same attitudes, values, and experiences. Generally, the Lao population is divided into three major ethnic assemblies based on their geographic area. Following their ethnic group, they are known as Lao. And the term "xout lao" is related to this community, which is a laotion national attire worn by women, men, and children.
Traditions and dress are the hallmarks of the Lao people. At that place, both men and women wear different types of clothes. As per the values and beliefs here, women are considered the mother of the country, so women should wear nice clothes. Blouses, skirts, and scarves are the most common clothes worn by them. Let us discuss which traditional dress is worn by men and women in Laos.
Traditional Dress of Men and Women in Laos (for daily lives)
People of the Lao community are very well familiar with how to wear from a very early age. Since their childhoods, women have been gaining skills in weaving. The traditional costume for women in Lao is the Sinh, which means clothes. Traditionally, it is a tube skirt crafted using silk fabric. If you are ever planning a trip to Cambodia or Thailand, you will notice that this traditional dress is very similar to the conventional skirts belonging to Cambodians and Thais. The reason behind this is that they are neighbouring countries.
1. For females: Sinh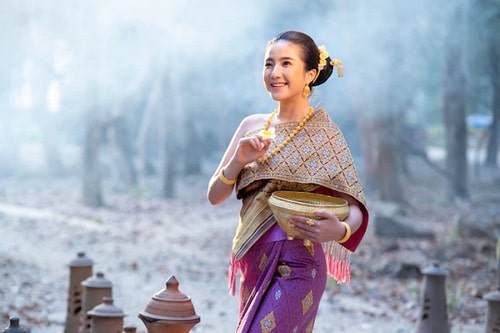 As discussed above, sinh is a traditional costume of women from the Lao community. It encompasses three pieces of cloth:
Hua Sinh: the waistband part
Phuen sinh: the body of the skirts. This piece of cloth doesn't have various decorations and is typically empty.
Tin sinh: the lower border, containing golden decoration.
As with Singh, Lao women cover their bodies with scarves with similar patterns and designs.
2. For males: Salong
The traditional attire of a man belonging to Lao is salong. Traditionally, it is a large or peasant pan worn by their commonly. As it can be worn in various methods, you can wear it around the waist.
Sinh and Salong: Pattern, Design, and Structure
Loa community's women wear sinh in a variety of ways. The simple yet elegant tube skirt is generally made of cotton and silk or cotton solely. It has delicate embroidery over it. By ethnic groups, sinh is designed in multiple designs and textures and is generally created in rural zones. Moreover, it is woven with different colours and motifs, showing the Laos culture clearly.
On the other hand, the salong is worn by men and is a length of fabric made of silk, cotton, and synthetic (rayon). The traditional fabric is 4 to 5 meters long from the knees to the ankles. Speaking of design, they have square, various, or checked designs, as well as different colours and symbols. In the modern world, salons now also incorporate Western patterns and designs that keep changing with the times and the latest fashion styles.
Traditional Dress of Men and Women Laos (for a special occasion)
In many rural areas, it will be seen that children wear tube skirts. Available in different varieties, designs and colours, Singha and Salong can be worn by the local people, depending on the occasion or funeral.
Costume in the Wedding Ceremony
In Laos, the wedding ceremony is an essential occasion. Both bride and groom wear traditional attire with gold detailing and bright colours. These colours and patterns describe richness and diversity. Another fact about special clothes worn on special occasions is that if the family is wealthy, they consider wearing clothes with different patterns that will be more sophisticated.
Other costumes:
Suea Pat: It is a shirt with long sleeves, and there are no buttons on it. Lao needs to cover the right side of the front panel of the shirt with the left side of the front panel and tie the two panels together with string to wear the shirt adequately.
Pha Biang: It is basically a shawl, which also refers to a silk breast cloak worn by both men and women. It is also called a long piece of cloth made of silk, about a foot wide, draped diagonally across the chest from above the shoulders, the end being behind the back.
Clothing style of Hill tribes: They wear black Hmong attire, comprising a sash, apron, a jacked with designed sleeves, and leg wraps. They generally dress with beaded edging trim along the chest and shoulder. Additionally, they dress head gears made of colourful tartan.
Final Words:
So, now you must have understood how colourful and distinctive the dressing style of the Lao people is. Try these costumes whenever you visit the place but don't forget to click pictures with them.