Dubai, the vibrant city in the United Arab Emirates, offers an array of attractions for families with children. From thrilling adventures to mesmerizing experiences, Dubai has something to offer for everyone. In this article, we will explore the 10 best places in Dubai specifically designed to delight and entertain kids. From the exhilarating IMG Worlds Dubai to the enchanting Dubai Garden Glow, we will dive into these exciting destinations that guarantee a memorable time for the whole family. So, let's embark on a journey through the wonderland of Dubai's top kid-friendly attractions.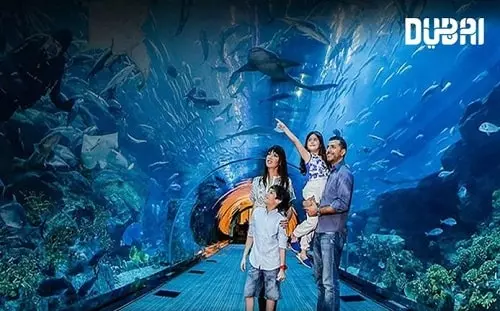 IMG Worlds Dubai :
At the top of our list is IMG Worlds Dubai, an indoor amusement park that promises an unforgettable adventure. This massive park spans over 1.5 million square feet, featuring various themed zones like Marvel, Cartoon Network, and more. Kids can meet their favorite superheroes, hop on exhilarating rides, and immerse themselves in interactive experiences. IMG Worlds Dubai offers great deals for kids where one can book tickets and get exclusive packages for a day filled with non-stop fun and entertainment.
Dubai Garden Glow :
Next on our list is the magical Dubai Garden Glow, a unique attraction that combines art, creativity, and nature. This illuminated wonderland showcases stunning light installations, glowing animals, and replicas of famous landmarks, all created using millions of energy-saving bulbs. Kids will be fascinated by the vibrant displays, 3D mapping, and the Dinosaur Park, where life-sized dinosaurs come to life. Don't miss out on the opportunity to experience the enchanting Dubai Garden Glow by booking your tickets and purchasing entry passes in advance.
 Dubai Miracle Garden:
Dubai Miracle Garden is a floral paradise that captivates visitors of all ages. With over 150 million flowers arranged in stunning displays, this garden offers a visual feast for the eyes. Kids can wander through the enchanting pathways adorned with colorful blooms, encounter whimsical characters, and marvel at the Guinness World Record-holding installations. Don't forget to book your Dubai Garden Glow tickets to witness this extraordinary natural wonder.
KidZania Dubai :
KidZania Dubai provides an interactive and educational environment where kids can explore various professions through role-playing activities. From being a doctor to a firefighter, children can engage in realistic scenarios, earning KidZania currency and learning valuable life skills along the way. With hands-on experiences and a safe environment, KidZania Dubai offers an exciting and educational adventure for young minds.
Dubai Aquarium & Underwater Zoo:
Located in the famous Dubai Mall, the Dubai Aquarium & Underwater Zoo is a mesmerizing attraction that brings kids face-to-face with marine life. Kids can walk through the 48-meter long tunnel, surrounded by thousands of aquatic animals, including sharks and rays. The Underwater Zoo offers additional experiences like feeding sessions and interactive encounters with penguins, making it a must-visit destination for marine enthusiasts.
Legoland Dubai :
Legoland Dubai, part of Dubai Parks and Resorts, is a paradise for Lego lovers. This colorful theme park is packed with thrilling rides, building experiences, and interactive shows. Kids can embark on a journey through the Lego Factory, conquer dragon-themed roller coasters, and explore the Miniland, featuring iconic landmarks built entirely from Lego bricks. With Legoland Dubai offers, families can book their tickets and immerse themselves in the world of Lego adventures.
Wild Wadi Waterpark :
Escape the heat and dive into the thrilling world of Wild Wadi Waterpark. This water wonderland offers an array of water slides, wave pools, and lazy rivers, ensuring endless aquatic adventures for kids. From adrenaline-pumping rides to splash-filled play areas, Wild Wadi guarantees a splashing good time for the whole family. Book your tickets in advance to get your spot and enjoy a day of aquatic fun.
Dubai Ice Rink:
Located in the Dubai Mall, the Dubai Ice Rink offers a cool experience for kids and families. Whether your child is a beginner or an experienced skater, this Olympic-sized ice rink provides a fun-filled environment to glide and twirl on the ice. With regular theme nights, live performances, and disco sessions, the Dubai Ice Rink ensures an entertaining and icy escapade.
Dubai Dolphinarium :
The Dubai Dolphinarium is a fantastic attraction where kids can witness the grace and intelligence of dolphins and seals. The interactive shows feature these magnificent creatures showcasing their incredible skills, leaving the audience in awe. Kids can also participate in dolphin encounters, getting up close and personal with these friendly marine mammals. Make sure to book your tickets in advance to get your spot for this unforgettable experience.
Bounce Dubai:
Last but not least, Bounce Dubai offers an adrenaline-pumping adventure for kids and teens. This indoor trampoline park features interconnected trampolines, dodgeball courts, and freestyle areas, providing a gravity-defying experience for all ages. Kids can practice their flips, slam-dunk like basketball pros, and challenge themselves on the Ninja Warrior-inspired obstacle course. With energetic music and a vibrant atmosphere, Bounce Dubai guarantees an exciting and bouncing escapade.