See, as of now, it is important for the government and companies in India to focus more on the manufacturing of lithium batteries if they are actually all about going green. And the use of these lithium-ion batteries isn't just in electric vehicles, they are used in many other products, just like your smartphone because it is running on a lithium-ion battery.
So, if you are into this stuff, and want to know about who are the biggest players in the lithium battery manufacturing scene of India, then keep on reading because here we are going to take a good look at the top 10 best lithium battery manufacturers in India for 2023. Let's get down to it then.
List of Top Lithium Battery Manufacturers in India
1. Loom Solar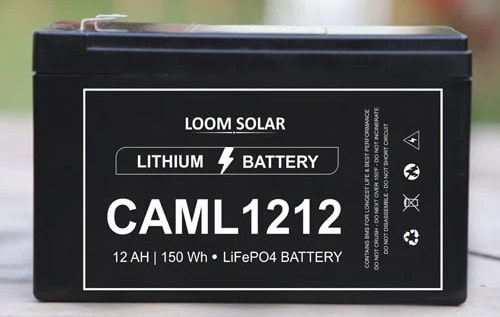 Well, first on the list is, of course, Loom Solar. Did you know that Loom Solar has recently become the first lithium battery manufacturer to offer an extensive range of lithium-ion batteries in the country, ranging from 6Ah to 100 Ah? That is no doubt impressive, don't you think? And since this company was only established in the year 2018, seeing such skyrocketing growth is absolutely pleasing. Since Loom Solar is growing rapidly in this particular segment of the Indian market as a newcomer compared to other contenders on this list, we had to put it in the first spot today. Up until this point, you may have recognized Loom Solar as the best solar panel company in India, but now you know why it is one of the best lithium-ion battery manufacturers in the country, don't you?
2. Exide Industries
Have you ever heard of Exide Industries? Well, these folks have been around for more than 70 years, and boy, do they know batteries! Starting in Kolkata, they've made a name not just here at home but all over the world. From car batteries to the big industrial ones, and now, they've dived into the lithium battery game. They've seen the world moving towards greener energy and thought, "Why not us too?" And with their tech upgrades, they're making some top-notch lithium batteries. Of course, with their huge network, it's no surprise people love turning to them for their battery needs.
3. Reliance
Okay, next up, we've got Reliance. They are literally the biggest names in many sectors of the Indian market, so you have probably heard about them, right? They're into, well, almost everything! From oil and petrochemicals to telecom, they've got their fingers in many pies. But guess what? They're now stepping into the lithium battery world too. With everyone talking about EVs and clean or green energy, Reliance thought it'd be a good idea to join in. They're putting money into the latest lithium battery tech to ensure we get some powerful and reliable batteries. Given how big Reliance is, their move into batteries could really shake things up in India's battery market.
4. Mahindra
Mahindra is surely a name that instantly brings to mind automobiles and cutting-edge innovations in India, but they are also taking the lead in the electric vehicle (EV) world. Their green mobility brand, Mahindra Electric, just proves how serious they are about going green. While many of us think of 'vehicles' when we hear Mahindra, they've got their eyes on the lithium battery game, and why not? Knowing the EV boom is on the horizon, they're diving deep into energy storage that's both top-notch and eco-friendly.
5. Amara Raja
Speaking of big names, Amara Raja Batteries Limited, part of the iconic Amara Raja Group, has been the battery giant since 1985. From delivering powerhouse energy solutions to making waves with lead-acid batteries, they've been at the top of their game. But they're now stepping into the world of lithium cells and battery packs, showing they can evolve with the best of them. Whether it's cars or hefty electronics, they're ramping up production to cater to all.
6. Luminous Power Technologies
Let's dive back to 1988, and that's when Luminous Power Technologies started making waves in India's power backup and green energy scenes. From manufacturing inverters and UPS units to crafting solar wonders, their passion for innovation has never dimmed. They've recently hopped onto the lithium-ion train, understanding the buzz around potent energy storage. Their lithium-ion champs, perfect for your home and workspace, prove they're always thinking steps ahead.
7. Panasonic
Have you ever considered how Panasonic, a giant with 100 years under its belt, shapes the modern tech landscape in India? Beyond TVs and cameras, they're charging ahead in lithium battery manufacturing. It's all part of their drive for a green future! With cool additions like residential solar modules and the EverVolt Home Battery System (a true masterpiece for energy management), they're proving their passion for innovation.
8. Hyundai
Did you know Hyundai is not just about cars anymore? Hyundai is diving deep into the electric game, making massive moves in the EV segment of the country. As a top car brand in India, Hyundai doesn't want to rely on third parties for their EV batteries, that's why they're also heavily investing in producing their own batteries. While their main game has always been cars, this leap into the lithium battery world just shows they're all set to keep leading in the ever-evolving EV race.
9. Ola
Ola is also stepping up with their very own subsidiary, Ola Electric, aiming to completely revamp the electric mobility scene in India. They're building their own massive battery cell factory and have even developed India's first homegrown lithium-ion cell. Now, that's what we call commitment! With everything from crafting batteries to manufacturing electric vehicles, Ola's gearing up to give transportation in India a whole new look.
10. Su-Kam Power Systems
Lastly, let's talk about a foreign brand in this segment of India that is gaining quite a lot of popularity recently. We are talking about Su-Kam Power Systems company which has been around since 1998, remember them? From inverters and UPS systems to solar stuff, they've been all about quality and pushing boundaries. And now they're diving into the lithium-ion battery market! Given their track record, it's no surprise that their batteries are top-notch in reliability and performance.
Conclusion
That'll do it. These are by far the fastest-growing and the "BEST" lithium battery manufacturers in India right now. And we hope that our post has been able to provide you with some really interesting insights into this particular industry.