An Indian lungi is a type of sarong. Lungi refers to a type of skirt worn by men, generally of a variety of colors, and attached at the low waist.
Men in states like Andhra Pradesh, Kerala, Tamil Nadu, Karnataka, etc. typically dress in lungi on a regular basis. In various sections of the country, it goes by various names. There is a wide variety of lungi styles available on the market, from those with prints to those with checks to those that are just white. It is customary to wear a white lungi at religious and ceremonial events.
Lungi's popularity has only grown over the years. When it comes to quality lungi goods, India is hard to beat.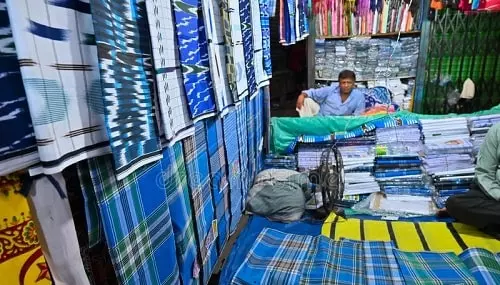 Here are India's top 10 lungi brands:
1. Kitex Lungi
Kitex lungis are crafted from premium 100% cotton fabric and feature beautiful, original prints designed by artists in Kerala. When a man wears one of these lungis, he immediately feels more refined.
These Munde are sold in sets of three, each containing one each of pink, brown, and blue. About 400 grams, this Lungi is a desirable 20 by 20 by 2 centimeters in size. This Mundus has no seams, making it easy to tailor to your specifications.
The Lungi should be washed by hand, without the use of any harsh chemicals or detergents. The fabric is not suitable for dry cleaning. These high-quality lungis retain their original hue even after several washes.
2. NIRANJ Lungis
Guys of any age can look and feel great in Niranj Lungis. There are two of these, and the multicolored lungi feature extremely basic, lovely little prints. The lungi is made from a luxuriously soft and hypoallergenic fabric.
Made from 100% cotton, these are comfortable to wear year-round. The weight of the lungis is 400 grams, and its dimensions are 20 cm x 20 cm x 2 cm.
The lungis' primary selling point is the all-over digital printing that elevates the otherwise mediocre design. They are superior to boxers and are designed specifically for the needs of the elderly.
3. Mr Lungi
A pair of Mr.Lungi 100% Cotton Lungis can be yours for just 210 Indian Rupees, making them among the best & cheapest men's lungi brands on the market.
These Lungis are woven from 60-60 non-mixture fabrics on a machine for a truly luxurious experience. These lungis are quite comfortable to wear, and they retain their shape and color even after several washes.
Lungis like this can be found in a wide range of colors and patterns, including green, blue, black, blue, and white.
They are superior than the standard boxers and shorts because of the individual style they impart.
Erode is one of India's most important centers for the production of cotton clothing, and it is there that all of these lungis are made. These Powerloom lungis live up to their reasonable price tag and are of the highest quality.
4. Sangu Mark Lungis
The quality of Sangu Mark lungis is often regarded as unparalleled. Each of these lungis bears a logo that attests to their high quality, making them ideal for use as everyday garb. These lungis are ideal for year-round wear because of their 100% cotton construction.
The Lungi is appropriate for men to wear at home or to a nearby casual employment. The fabric is gentle on the skin and improves with each wash. For the first two or three washes, it is best to wash these lungis separately in moderate detergents.
The Munde has approximate dimensions of 27.2 by 13.9 by 5.1 centimeters and a lightweight fabric weight of around 800 grams. Non-stitched and featuring a striped checkerboard pattern.
5. Dhrona Lungis
Dhrona's cotton lungis for men are sold in packs of 5. These multicolored lungis with stripes and squares are great for casual wear. These lungis are produced from 100% cotton and use dyes and printing processes that are safe for the environment.
These are unisex, plus-size lungis that are made for people with fuller behinds.
The Lungi has received rave reviews from satisfied customers, making it a great option for anyone shopping for a new lung aid online. These lungis will retain their shape and durability even after being washed several times.
6. Nandu Lungis
When it comes to lungis and dhotis, Nandu is a well-known name in India. They are made from 100% cotton.
These lungis are self-stitched, making them convenient to wear, and they come in a pack of four. There are stripes of royal blue, grey, and brown on them. These lungis, in contrast to competing brands, include an array of colors and designs.
These materials are completely carefree because they can be laundered with any standard washing detergent. They're sewn with a 2.25-meter circumference, so they'll fit someone who wears a XXL. You can wear these lungis around the house or to a more relaxed setting.
7. Cotton Crown Lungis
You may relax in complete luxury with these Cotton Crown lungis, which come in a two-pack and measure two meters across each. These lungis have a pastel blue hue and a boxy, cubical shape.
As they measure 2.25 inches in length, they are ideal for anyone who is tall enough to have a measurement taken. The blend of cotton and polyester used in their construction allows them to dry quickly after being worn.
There is an accurate and fair evaluation of the various web resources, which adds up to high value. The fabric retains its shape and color even after being washed a number of times and does not shrink.
8. Gowri Lungis
If in case your beloved man is stuck in his lungi-wearing rut or is intimidated by the thought of having to modify his lungi, try a pair of Gowri Cotton Stitched Lungis. These lungis are stylish and comfortable, and the colours and patterns really pop.
The color of these lungs will not fade, even after being washed multiple times. These brightly colored lungis are made of durable fabric that won't scrunch or tear.
These lungis measure 24 by 10 by 10 centimeters and they weigh about 492 grams. They are great year-round because they are lightweight and gentle on even the most delicate skin.
9. Cotton colors Lungis
Colors of Cotton Lungis for men come in a variety of sizes and colors, and they are a funky alternative to the standard blue and grey ones. The high-quality, gentle fabrics used in the printable lungis ensure a comfortable fit for any wearer.
The fabric weighs a total of 600 grams and has the following dimensions: 25.4 by 20 by 2.54 centimeters. All over their fabric are unique flower designs. The royal blue and brown color scheme of the lungis lends it a refined air.
Lungis should be washed in lukewarm water & dried in the sun. To avoid damage, dry washing is not recommended for this fabric.
10. Blue Leaf
Those who want to start wearing lungi but are unsure of how to do so or are uncomfortable doing so will find the BLUE Leaf LUNGI to be an excellent option.
Closed-loop lungis, like these, give the user a firm grip for fine-tuning their Lungi. These three lungis come in an array of colors and patterns, making them ideal for lounging about the house or wearing out for an informal evening of tea.
Thanks to the poly cotton construction, these are ideal for quick-drying situations. The fabrics used in these lungis are soft on the skin and easy on the wallet. These lungis measure 480 grams and have dimensions of 24 by 20 by 5 centimeters.
Conclusion
Wearing a Lungi instead of shorts or boxers has countless advantages. The lungi is one of the most traditional Indian men's garments, and it is also one of the most beloved for its comfort and ease of movement. These days, Lungi is a fashion statement for both men and women, who wear them with a wide range of outfits.
Get your choice of lungi from above-mentioned brands today.