T-shirts are one of the most common clothing people choose to wear. They are comfortable, easy to wash and look great when you pick the right size. While there are a number of T-shirt brands available in India, it is always a good thing to invest in a brand that suits your style and looks good on you. Investing in T-shirts is good since they last long when they come from a good brand name. Here are the top 10 T-shirt brands in India.
List of Top T-shirt Brands in India
10. Numero Uno
Numero Uno is one of the most accomplished brands for t-shirts in India. The brand of Numero Uno is falls under the ownership of Numoro Uno Clothing Limited. Numero Uno has been popular in India since 1987. Apart from t-shirts their range of products includes jeans, shirts, trousers, jackets and sweaters. Numero Uno also specializes in accessories and footwear such as formal shoes, sports shoes, belts, canvas shoes and bags.
9. Mufti
Mufti is a popular Indian brand which understands style and fashion. The brand has a number of clothing options to offer, but they are best known for their T-shirts and jeans. There are over 1400 multi brand outlets in India that stock up on Mufti T-shirts and there are around 250 exclusive Mufti brand outlets too. This is an easily available brand that you can find in most malls. The T-shirt quality is great and it lasts a long time.
8. Lee
Lee is a popular American brand that has certainly made a huge impact in India. Although Lee is known for its jeans, their range of t-shirts are exclusive and of the highest quality. Lee also specializes in jackets, shirts and blazers. Lee t-shirts have always led the market in terms of style statements and designs. Their logo on the t-shirt symbolizes a brand name that is renowned the world over. For people who are accustomed to only wearing t-shirts by Lee, there is absolutely no problem. Lee t-shirts can be purchased anywhere in the world.
7. Park Avenue
Park Avenue is best known for their formal range of clothing, but the brand also offers some amazing T-shirts for men. Park Avenue has been around since 1986 and focuses on using high quality material to create a clothing line that will last long. The brand ensures that they design and manufacture T-shirts that will last long and will fit perfectly. They are in over 750 multi brand outlets in India and also have 65 exclusive brand stores where you can choose from a wide range of some of the best T-shirts Park Avenue has to offer.
6. Pepe Jeans
Pepe Jeans was launched in 1989 in India and has slowly established itself as the number one clothing brand in the country. Pepe Jeans is especially popular among the youth because of the stylish clothes designed by them. The t-shirts by Pepe Jeans are of the highest quality and they are available for men, women and children as well. Apart from jeans and t-shirts, Pepe Jeans also specializes in coats and shirts. Pepe Jeans has established its credibility the world over ever since its launch in 1973 in London. There are very few brands that deliver better quality and more stylish t-shirts than Pepe Jeans.
5. Wrangler
Wrangler is one of the most popular brands when it comes to jeans. It is a well established American brand that is in high demand in India. They offer a wide range of clothing options for men, women and children. Wrangler is one brand that focuses on comfort and quality. In fact, they even offer a 1 year warranty of their items.
4. Van Heusen
Van Heusen is a popular brand for men. While it is best known for its formal collection, Van Heusen also has an impressive casual collection which includes some of the best T-shirts you will find in India. Van Heusen focuses on creating a style that is subtle, yet classy. It is best suited for men who are working and like to look classy and stylish even in a pair of jeans and a T-shirt.
3. Levi's
When you think of Levi's, you think of brand value, quality and style. Levi's has been one of the highest selling clothing brands across India. The parent company Levi Strauss & Co. has been in business since 1853 and was launched in America. Levi's t-shirts are of the best quality and they cater to men and women. Their wide range of styles and colors make it appealing. Ever since Levi's made its debut in India in 1995, it has created a market for itself and become extremely popular among the youth. Apart from jeans and t-shirts, Levi's specializes in trousers, sweatshirts, shirts, shoes and jackets.
2. Provogue
If you are looking for affordable, stylish and good quality T-shirts that will suit your style, Provogue is one of the best brands that you can opt in for. The brand offers a complete clothing line for men and women and is available in over 350 stores across India.
1. Allen Solly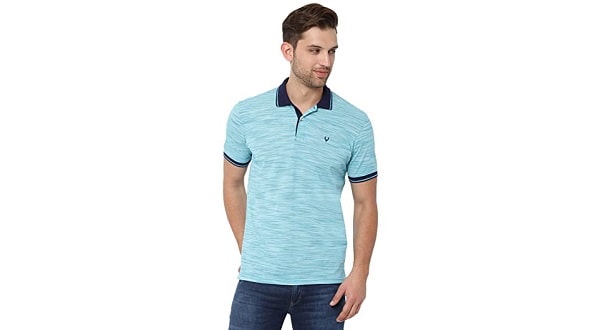 Allen Solly is one of the most reputed brand of clothing available in India. Launched by the Aditya Birla Group in 1993, Allen Solly has grown leaps and bounds in terms of the quality and class of products it delivers. Allen Solly t-shirts are known to be the best in market because of the fabrics that are used. It is one of the most popular brands for men, women and children.
T-shirt Brands FAQs
Q. What are some popular T-shirt brands?
Ans: Some popular T-shirt brands include Nike, Adidas, Hanes, Under Armour, Ralph Lauren, Levi's, Calvin Klein, Gap, and Puma. However, popularity may vary depending on personal preferences and trends.
Q. How do I choose the right size for a T-shirt?
Ans: It is generally recommended to refer to the size chart provided by the brand. Measurements such as chest width, length, and sleeve length are usually indicated. Compare your own measurements with the size chart to find the best fit.
Q. What is the difference between men's and women's T-shirts?
Ans: Men's and women's T-shirts often differ in terms of fit and styling. Women's T-shirts are typically designed with a more tailored or fitted silhouette, while men's T-shirts tend to have a looser fit. Neckline styles may also vary, with women's T-shirts often featuring scoop or V-necks.
Q. Are there any eco-friendly or sustainable T-shirt brands?
Ans: Yes, there are several eco-friendly and sustainable T-shirt brands available. Some examples include Patagonia, Tentree, Alternative Apparel, Everlane, and prAna. These brands prioritize using organic or recycled materials, implementing ethical production practices, and supporting fair trade.
Q. How should I care for my T-shirts to make them last longer?
Ans: To extend the lifespan of your T-shirts, it's recommended to follow the care instructions provided on the garment label. Generally, machine wash them in cold water, use mild detergent, and avoid using bleach. It's best to air dry or tumble dry on low heat to prevent shrinking or damage to prints.
Q. What is the average price range for branded T-shirts?
Ans: The price range for branded T-shirts can vary significantly depending on the brand, quality, design, and any special features. On average, you can expect to find branded T-shirts ranging from Rs.1000 to Rs.4000. However, there are both more affordable options as well as higher-end designer brands with higher price points.
Q. Are there any specific washing instructions for T-shirts with graphics or prints?
Ans: T-shirts with graphics or prints often have specific care instructions to preserve the design. It's recommended to turn the T-shirt inside out before washing to protect the print. Follow the garment label instructions regarding temperature, detergent, and drying methods. Avoid using harsh detergents or bleach, as they can cause fading or damage to the print.