We all know that Goa is where Indians go to have fun and relax on the beach. Is Goa just for honeymooners who want to relax on the beach and drink beer while watching the sun set? Absolutely not! These days, visitors to the popular beach destination of Goa are also donning the less well-known but no less colorful traditional attire of the region.
People in early Goa society wore a loincloth made of leaves and a string of beads as part of their customary dress. Beads of all shapes and sizes were used in the making of their jewelry.
Goa place a premium on their heritage and culture, and this is reflected in their clothing. The climate of Goa has a significant impact on the region's traditional clothing.
Cotton clothing is the norm, and excessive glitter is generally frowned upon. Goa's customary garb draws inspiration from a wide range of cultures.
Let's have a sneak-peek of Traditional dress of Goa for men and women
Traditional dress of Goa for Men
There is no set style that the fisherman of Koli in Goa adheres to. They are clad in brightly colored tops and shorts. They accessorize their laid-back style with bamboo hats. The bamboo tree bark is used to create the hat.
The residents of Goa, including visitors to the state, are known for their penchant for wearing brightly colored clothing. Goa is an exemplar of kaleidoscopic diversity in its wide range of dress trends and statements.
Because of its unique blend of Eastern & Western influences, Goa traditional clothing and everyday fashion feature a vibrant spectrum of hues.
Beachwear
On the beach, Goa people traditionally wear colorful shirts and shorts. Its beachwear is known for its bright colors, and in recent years, many fashion labels have begun producing beach dresses inspired by the Koli pattern.
Traditional dress of Goa for Women
Pano Bhaju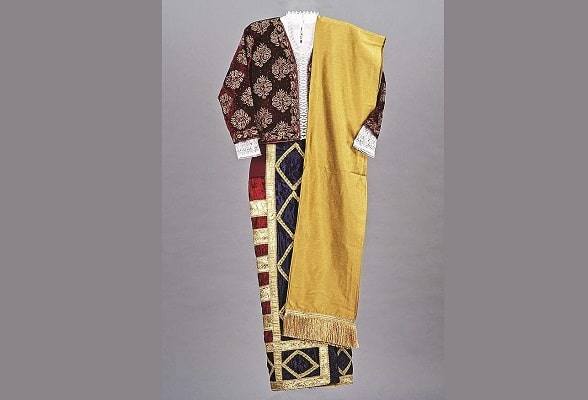 Pano Bhaju is the most well-known dress for women in Goa. Festival-goers and community members alike will feel right at home in this attire. Women in this dress often dance when they are happy. Wendell Rodricks's legacy lives on in this state with the continued success of his signature style. The 9-yard fabric is draped and worn in the same manner as a saree.
Pano Bhaju can be accessorized with a wide variety of shoes and jewelry. What accessories are worn with them is determined on the event or occasion. This saree is available in a wide variety of motifs and styles that draw heavily from the aesthetics of China, ancient Persia, & Central Asia.
Nav Vari
This garment, which is really just a distinct style of saree, goes by many various names. Another option is to expand upon the term "Goan Saree." This garment is accessorized with glittering gems and jewelry.
It goes by several names; some of the most common are Nauvari, Kacha, Lugade, Nauvaree, Kasta Sari, and Sakachcha. The saree is well-liked because its length is unparalleled everywhere else in India. It has incredible potential in terms of design, aesthetic, and other aspects.
Kashti
Kashti is another common outfit worn by women. Kashti, when paired with a Kunti Pallu, is likewise similar to a saree. Kunti Pallu is regarded as a unique way to drape a saree. Women wear Kashti, which is constructed of loincloth, with simple jewelry like bangles and Payal. Women typically pair kashti with sandals.
Carnival dresses
Goa's carnival attire doubles as the state's traditional garb, so it's understandable if you didn't know that already. The locals certainly have a penchant for wearing bright colors and patterns. Attendees of Goa's several carnivals dress in costumes carefully chosen to complement the unique accessories they carry. There are many visitors who will dress appropriately for the carnivals, as many are themed.
That's the most exciting aspect of the Goa carnivals. The festival gives people a chance to flaunt their best outfits.
Tribal wear
This outfit, like the others, is a type of Goa costume worn by members of several different ethnic groups. All of the tribes, including the Velip, Kunbi, Zalmi, Dhangar, and Gauda have striking similarities to Valkal.
The jewelry and accessories worn by those dressed in this fashion are another defining characteristic. The original material for Valkal was Loincloth. Goa receives a large number of tourists from different countries, therefore sharing this trend with other people has become commonplace. And now it is widely used, so you can expect to see it around.
Conclusion
From November to February, when the average temperature is between 20 and 32 degrees Celsius, Goa attracts tourists from all over the world to enjoy the warm weather and beautiful beaches.
Bikinis, cotton shorts, monokinis, tank tops, cover-up dresses, long skirts, etc are popular choices for ladies throughout this season. Most men are seen wearing chinos, slacks, and cotton espadrilles.