Introduction: 
Diwali, is a Hindu festival which is celebrated every year in the autumn season. Diwali will be Celebrated on Thursday , 19 October, 2017. It is also known as the 'Festival of Lights'. It is one of the most popular festival of Hinduism, which marks the Victory of Light over darkness and Good over evil. The celebration includes lighting the house with Diyas and bursting crackers, symbolizing bursting of crackers. The preparation for the festival and rituals extend over a period of five days, however the main celebrations happen in the new moon day of Kartik month, according to the Hindu calendar.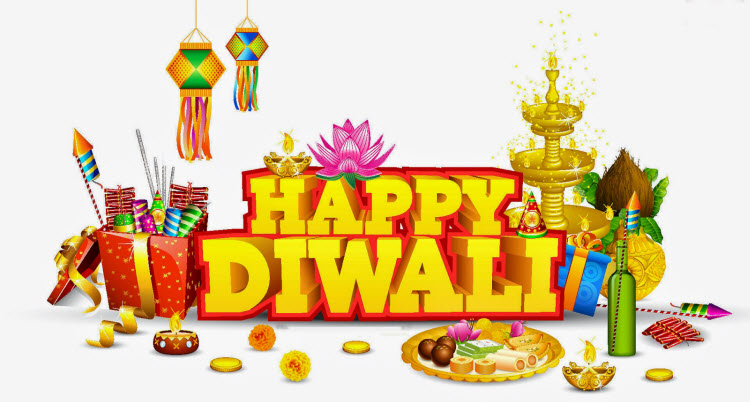 Diwali – Name Meaning: 
Diwali, is also pronounced as Deepavali, where 'Deep' represents 'Lamp or Light' and 'Avali' represents 'Row'. So the name indicates 'Row of Light' and during this time our house is well lit with Lamp or Diyas. Diwali celebrations extend from three to five days, starting from the thirteenth day of Full Moon day in the month of Kartik, according to Hindu calendar.
Diwali Preparations: 
A day before Diwali night, the house and office spaces are cleaned, renovated and decorated with flowers and colours. People purchase new clothes and prepare sweets for this special occasion. On the day of Diwali, the house is well lit with Diyas and the entrance is decorated with Rangoli. In addition to these, it is a tradition to burst crackers on this special occasion. This symbolizes getting rid of evil in the surroundings.
Diwali – A Five Day Celebration: 
As we already know that Diwali is a five day celebration in Northern and Western part of India, on each day a set of rituals are followed. We have given below the rituals followed on each day. 
Day 1: Dhanteras (Tuesday , 17 October, 2017)

This is celebrated on the thirteenth day from the full moon day. The name of this ritual denotes 'Dhan', represents 'Wealth' and 'Teras', represent  'The Thirteenth'. On this day, Goddess Lakshmi is worshiped for health, wealth and prosperity in the upcoming Hindu New Year. In some place, during this day, lamps are kept lighted for Lord Yamaraj, who is the God of Death. 
Day 2: Narak Chaturdashi 
This is the fourteenth day from the Full moon day and a day before the new moon of the following month. In Hindu mythology, it is believed that Lord Krishna killed the demon Narakasura on this day. This day is also called as 'Choti Diwali'. In Southern part of India, this day is celebrated as Diwali. On this day, Hindus in Southern part of the country take bath after applying oil and with a small amount of Ganga water mixed in the water. After which everyone wears new dresses and recite mantras during the puja. Later in the day, they start bursting crackers, in order to celebrate Diwali.
Day 3: Lakshmi Puja or Diwali 
In Northern and Western part of India, this day is considered to be Diwali and they worship Goddess Lakshmi on this special occasion. Typically, Goddess Lakshmi, Goddess Saraswati, Lord Ganesha and Kubera are worshipped on this day for Health, Wealth, Prosperity and Knowledge. 
Day 4: Padwa or Balipratipada 
The day after diwali is celebrated as Padwa, which is a ritual of celebrating the Husband and Wife bond. On this day, Husband gifts wife with gifts and in some regions, young married couple are invited for special meals and in some other regions, brother invite their sisters from in-laws on this special day. 
Day 5: Bhai Duj or Bhaiya Dooji 
The last day of Diwali is called Bhai Dooj and on this day people are celebrating their Brother and sister bond. Brothers gift their sisters with memorable gifts and sister give sweets to brother. This is similar to another grand ritual named 'Raksha Bandan'. 
Conclusion:
During this festival, like religions Hinduism, Jainism and Sikhism offer, according to their capacities to Charities, as an act of kindness. Even in border, Indian and Pakistani Soldiers exchange sweets of this festive season.