Durga Puja, is a Hindu festival, celebrated in the Indian subcontinent, by worshipping the Goddess Durga. This festival is also known by other names like 'Durgotsava or Maha Durgashtami'. This festival is popularly celebrated in the states like West Bengal, Odisha, Assam, Jharkhand, Bihar, Bangladesh, etc. This festival is celebrated in the month of 'Ashvin', according to the Hindu calendar and usually falls in the month of September or October according to the Gregorian calendar. This festival is celebrated for ten days and many pandals are decorated for placing Goddess Durga's idol.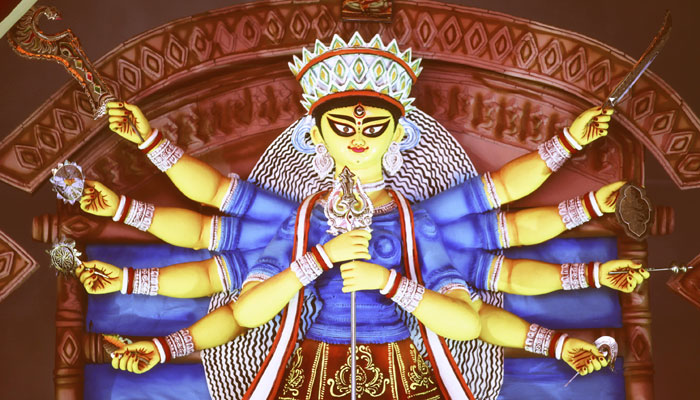 Durga PujaDurga Puja, is celebrated for marking the destruction of the shape-shifting demon, known by the name 'Mahishasura'. It is believed that Goddess Durga fought the demon for nine days and emerged with great victory on the tenth day, which is celebrated as Durga Puja. This festival also coincides with another Hindu festival 'Vijayadashami', which is also known as 'Dussehra'.
Rituals and Celebrations of Durga Puja 2018: 
It is not clear from which century this festival is celebrated, however, it became more prominent during the British Rule in our country. This festival involves decoration of pandals in each and every street, in our country. The idol of Goddess Durga, along with Goddess Lakshmi, Goddess Saraswati, Lord Ganesha and Lord Murugan, will be placed in the pandals. Including these, Lord Shiva also has a prominent position in this celebration.
This festival begins in the first day of Mahalaya, during this day it is believed that Goddess Durga began her war with the demon king 'Mahishasura'. Following this, after her victory, the Goddess is welcomed to her home and worshipped with dance, music and chants. Including this, many prasada's are also presented during the puja time, which is later distributed to the devotees. After the Durga Puja day, the idols of Lords and Goddesses are carried from every street and dissolved in the nearest water bodies.
Date, Puja Time and Muhurat of Durga Puja 2018: 
Since this festival is celebrated according to the Hindu calendar, the Gregorian dates may fall in between the months of September and October. In 2018, this festival falls on the following day.
Date: Monday, October 19, 2018
Day 1 of Durga Puja falls on: October 14, 2018
Day 6 of Durga Puja falls on: October 19, 2018
It is believed that Goddess Durga, leaves her home and reaches Mount Kailash on the last day of Durga Puja and devotees see her off, with music, chants and dance, on this day.