Goa offers all of these things and so much more, including beachside pleasure, trance parties, hot nightlife, and gastronomic delights. Goa is a multicoloured place with a flavourful punch that includes joy, frivolity, culture, tradition, and even a wonderful dose of spirituality. Like no other location in India, the bustling area emphasises the concept of a carefree existence. It tempts you to take in the beauty of Portuguese colonial lineage while also adding a dash of Indian culture. Such is Goa's fascinating charm! When you are close to Goa's stunning beaches, everything else may be put on hold. If you want an amazing stay in Goa, then immerse yourself in the beauty of goa radisson blu. Here is our ranking of the region's most beautiful golden-sand gems and they are as follows: –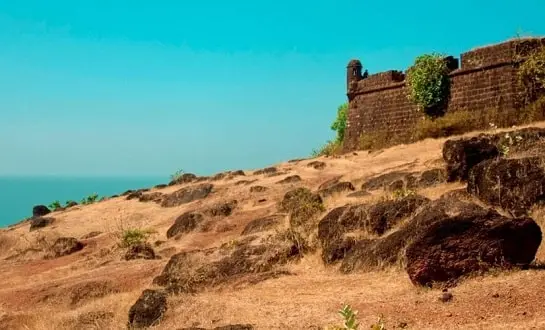 One of Goa's top tourist destinations is the Chapora Fort, which is well-known for its history. It gained notoriety recently after being used as the location for the Bollywood film Dil Chahta Hai. From here, perched on a prominent location, one can see for miles in every direction. This is one of the best locations in Goa for sightseeing where you can take in a breathtaking aerial view of the sea.
Bondla Wildlife Sanctuary
Bondla Wildlife Sanctuary is one of Goa's smallest wildlife preserves. One of the most visited tourist destinations in Goa is Bondla Wildlife Sanctuary, one of the smaller wildlife sanctuaries in the state. You may tour the deer safari park, botanical gardens, and other attractions in addition to witnessing a variety of plant and animal species here. This animal refuge is well-known among photographers, kids, and environmentalists. It is open all year round.
Popular shopping destination: Mapusa Market
One of Goa's numerous well-known retail areas is Mapusa. You'll find a variety of stalls tempting you with local items obtained by farmers and small business owners around the state just outside Mapusa Municipal Market. While shopping in Goa, you may find a variety of artefacts, clothing, accessories, souvenirs, and much more in the market. Visit the bustling marketplaces of Goa, which are renowned for their large selections of clothing and accessories, to satisfy your need to shop compulsively.
Saturday Night Flea Market, Goa
The popular flea market is open on Saturday nights. This enormous market may be found in Arpora. This market has everything for everyone, including spices, jewellery, one-of-a-kind products, foreign designers, vintage goods, and much more. In addition, it holds live performances. This market is frequently visited by hippies, who also sell goods there. Bollywood films have often depicted the Saturday night bazaar! One of Goa's liveliest retreats for sightseeing, to say the least. One of Goa's top locations is this.
Goa's main tourist destination is Baga Beach. Baga Beach is also known as the white sand beach. While the wind continues to play with the palm palms, majestic white waves are rushing to wash away the footprints you left on the white sand. Parasailing, banana boat rides, and sunbathing are some of the most popular activities at this beach. One of the most popular tourist destinations in Goa for couples, where they may partake in a variety of enjoyable activities.
North of Palolem Beach is where you'll find this lovely Butterfly Beach. Butterfly Beach is for people who are peace lovers. One of Goa's quietest and least visited beaches, it is ideal for people seeking solitude and serenity. There are several rocks all around Butterfly Beach. One may take pleasure in the exhilarating paddle boat journey to the beach and view some dolphins en route.
The Queen of Beaches is another name for Calangute Beach. Calangute Beach is a paradise for hippies, drawing crowds of European tourists. Along with these activities, you may go parasailing, water skiing, windsurfing, and go on dolphin excursions. One of the greatest sites to see in Goa in two days is this, whether you're travelling with friends, by yourself, or with your significant other. You may let your spirits soar high on the sky of experience thanks to the city's incredible nightlife, hopping flea markets, and great historical contributions.
Colva Beach is one of the largest and oldest beaches in Goa. This beach is approximately 8 kilometres from the Margao Railway Station and 33 kilometres from the Panjim Kadamba Bus Stand. This South Goa beach is regarded as one of the top tourist destinations. Among the beaches in Goa's southern area, this one is thought to be the biggest and oldest. It is also regarded as one of the nicest beaches in the entire nation. All partygoers must visit Colva Beach to have a wild night because of its renowned pubs and bars!
Second-longest Coastal Stretch in India is Cansaulim Beach. The second-longest length of shoreline in all of India is made up of this beach, Arossim, and Cuelim. Cansaulim Beach, one of Goa's most attractive places for a picnic, is regarded as an extension of Velsao Beach. The many palm palms and white sands of this specific beach are well-known features. It is a section of Velsao Beach's northernmost end, one of Goa's most picturesque spots. This is a must-visit beach if you wish to discover Goa's remote beaches. Take a leisurely stroll along the beach while taking some amazing pictures with palm palms in the backdrop.
Conclusion
Goa is undoubtedly a haven for leisure activities and water sports. Enjoy the stunning sunshine while taking part in thrilling sports like kiteboarding, kneeboarding, parasailing, paragliding, kayaking, diving, and snorkelling. In Goa, there are several places to visit for weekend getaways or quick vacations. For an amazing stay, you can always choose Goa Radisson Blu resort and enjoy your vacation. The two most spectacular times to visit Goa are around the Goa Carnival event or the New Year if you prepare ahead of time. Plan to unwind at one of the hip pubs, chic cafes, or beach shacks while visiting Goa. Visitors may even make plans to go out to clubs and discos with pals. Come and experience Goa life and be astounded by the unique things it has to offer, all within a short distance.