While each of India's states and cities offers something unique, these are some of the most dynamic and rapidly expanding metropolises. These are the cities that showcase India abroad and have an outsized influence on the international community
The expansion of the country is expected to speed up as rising disposable income and better infrastructure increase demand and purchasing power in smaller cities.
Due to the inadequate supply in these regions, businesses looking to expand into new markets have a plethora of chances to prosper and benefit from among the top populations in the world.
Real estate & labor costs in smaller cities tend to be lower than in larger metropolitan regions, which is a major advantage for any firm.
List of Top Fastest Growing City in India
This article provides a ranking of the ten fastest-growing cities in India.
1. Bengaluru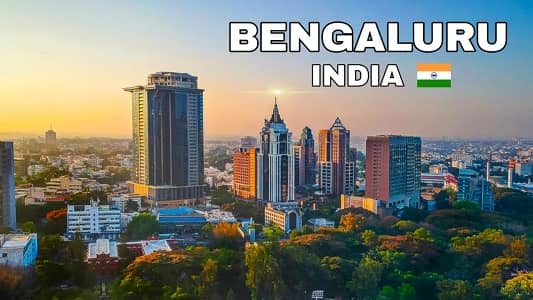 Although it has long been known as "Silicon Valley of India," Bengaluru has recently emerged as the country's undisputed technology hub. Attracting a large number of software engineers and other tech workers, this centre of the software sector is expected to hit its $283.3 billion GDP goal by 2035.
The likes of Goldman Sachs, Cisco, Tata, Infosys, & Wipro all call this metropolis home. Most of these businesses, and perhaps others, have their nerve centre here. Slowly but surely, it has become a centre for new businesses, drawing in US $4 billion a year in startup funding. The fields of electronics, machine tools, defense, aviation, & biotech have all established significant presences in this city.
2. Vijayawada
Vijayawada, Andhra Pradesh, is the state's second-largest city and a major metropolitan area. Small-scale industry, vehicle body construction, textiles, basic goods, and agricultural goods like cotton & turmeric have made the city a major economic centre in the state.
The city's excellent infrastructure, attractive design, culinary delights, and wide range of opportunities make it an attractive location to live. Among Indian cities, it has had some of the most rapid development.
Several students from other parts of the country now flock to the city to attend one of its many prestigious universities.
3. Hyderabad
Similar to Bangalore, Hyderabad is now considered to be one of India's most rapidly developing urban centers. It's become a key centre for business and innovation. The city is home to the largest start-up ecosystem in India and a major technology township known as HITECH city. Over 1500 information technology firms call this city home.
Excellent connectivity options are available, including the Jawaharlal Nehru Ring Road, metro connectivity, and the forthcoming Regional ring road linking the city with adjoining districts. Currently, construction is underway on a 990 m six-lane flyover at Nagole to claim a travel time in the City.
As far as global monitoring goes, Hyderabad is in the top 50 cities.
4. Chennai
Despite its reputation as "the Detroit of India," Chennai is actually one of India's safest major cities. With the highest number of tourists, it ranks as India's third most popular destination. And not only that, but their incredible hospitality is legendary. Visitors aren't the only ones that flock to this area; students and workers also come looking for greater prospects in their fields. Its expansion is due to many factors, including the low cost of living, a thriving business community, and world-class facilities.
Almost a third of India's vehicle manufacturing takes place in this single location. Due to its convenient location and plenty of attractions, Chennai is now one of India's 10 fastest-growing cities. When compared to other major cities, the cost of living in Chennai is relatively low.
5. Agra
Agra, the fourth most populated city in Uttar Pradesh, is a stunning metropolis on the Yamuna's banks. In addition to the Taj Mahal & Fatehpur Sikri, it is one of the most visited cities in India due to its position on the famed Golden Triangle tourist route.
The economy is supported by the four major sectors of handicrafts, industry, agriculture, and tourism. Small-scale industries such as iron foundries & leather goods production are thriving there as well.
Due in large part to the influx of tourists, this once sleepy town has risen to become one of India's 10 fastest-developing metropolises. Compared to other major cities, the living cost in Agra is relatively low. An increase to around $30,000 per year is possible in typical living expenses. The going rate for a single room in Agra is around $7,000. Visitors to the city have said that they were treated warmly and found prices to be lower than in other major tourist destinations. People are drawn to Agra because of its attractiveness as a potential home and workplace.
6. Trichy or Tiruchirappalli 
There are a lot of impressive accolades associated with this city, making it a top contender for permanent residence. Trichy, a significant tier II city in India, is often regarded as one of Tamil Nadu's cleanest and most livable urban areas. It ranks as India's fifth-safest major city for female residents.
Many individuals are drawn to the city by the city's basic charm and the rapid expansion of its industrial sector. The mysterious culture has even helped make up for the absence of tourist infrastructure. Tiruchirapally has a low cost of living; a one bedroom, one bathroom apartment in the city centre may only set you back 8 thousand rupees, while one in the suburbs may cost you only three to four thousand. Even if renting will reduce your monthly outlay, you can rest assured that you will have access to a wide range of resources and a pleasant living environment.
7. Nagpur
With 13.2 million people, it is one of India's most populous cities, and its GDP has been expanding at an annual rate of 8.4 percent, making it among the speediest growing cities in India. Although it is a political and economic hub, it has been ranked as one of the top cities in the world in terms of healthcare, public transportation, environmental quality, and quality of life. Aside from being ranked as one of India's cleanest and safest cities, this location has also been given the 20th spot in the region's west. Many people's quality of life has improved thanks to the city's progressive approach to infrastructure development.
8. Surat
Surat, thanks to its sizable port, has emerged as Gujarat's commercial and economic hub. With a rate of growth of 9%, Surat is at the top of the Oxford Economic ranking. The city's GDP is projected to reach $126.68 billion by 2035, making it one of the world's fastest-growing by Economic Times' estimates. Surat, India, is the eighth largest city in the country and the ninth largest metropolitan agglomeration in the country. An 11.5 percent increase in GDP is recorded annually. Surat became the first "smart IT city" in India and was named the finest place by the Annual Review of India's City Systems.
9. Rajkot
Rajkot, the fourth largest city in Gujrat, ranks second among India's cities in terms of cleanliness. Rajkot, the 35th largest city in India, is situated along the banks of the rivers Aji and Nyari. It helps the national economy through both its major and small-scale industries. The city's infrastructure has been improved with the help of $280 million in World Bank funding. The Kaiser-e-Hind Bridge, which was damaged by the earthquake, will be rebuilt with a budget of $250 million. The growth of Rajkot's economy and infrastructure can be traced back in large part to the real estate industry.
10. Tiruppur
It is the largest exporter of cotton knitwear from India and is often referred to as the "knitwear capital of India." This helps bring in a lot of money from abroad, which is a major boon to the economy. Over 600,000 people rely on the region's roughly 10,000 textile factories for their daily income.