Women have been aiming to find outfits that bring them the highest comfort and functionality for ages. It can be with dresses, denim, or ethnic wear; nothing has entirely been able to live up to the stretchability, flexibility, and comfort that joggers do.
As more and more people aim to become fit, the buzz around athleisure wear has increased. And with this increase, the joggers for women have caught the limelight. They have garnered increasing attention as they are now more than just complimented for gymming. People have also been able to spend time publicly and casually with joggers for women.
What are Joggers?
Joggers are a mesh between both track pants and sweatpants. Generally, they are skinny bottoms and baggy tops with an extended cuff to your ankles. Joggers were made for physical activities, but these days, you can also wear them as loungewear or go out wearing joggers for women. These pants give you maximum mobility and comfort since the materials are meant to meet your athletic needs.
Joggers are made from materials such as polyester, fleece, and cotton. And they work amazingly well for any sport, but at the same time, they are so comfortable that you can wear them leisurely also.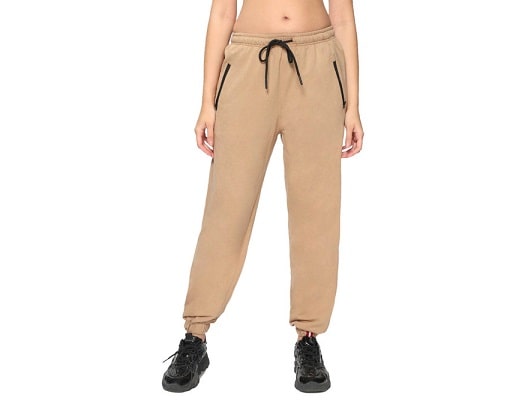 How Did Women's Joggers Become a Fashion Trend?
The first joggers for women were created when designers wanted a balance between track pants and sweatpants. The fashion designers had aimed for something which looked and had the feel of sweatpants but would be functional, like track pants. The history of joggers is tied together with the history when women began wearing pants.
Initially, pants were explicitly meant for men, especially track pants. And when track pants were being made for women, they were made of a softer material. From there, the aim of making joggers for women softer and better while not losing any of their characteristics has been a constant pursuit.
These days, joggers for women are readily available everywhere, primarily online. You can easily find something colourful, fun, and highly comfortable.
Amazing Ways to Style Women's Joggers
There are many great ideas through which you can style joggers for women. Some of the best fashion styles for joggers include the following:
● Grey Joggers with a Plain T-Shirt
There are many ways in which you can style your joggers. But the most basic way to make them look great is by pairing them with a white T-shirt. If you do not have a white T-shirt, even a black one works fine. You can wear casual shoes and hoops, t-shirts and grey joggers to keep the look simple, stylish, and subtle.
If you wear a grey T-shirt instead, you could also make a monochrome look. You can likewise pair a graphic t-shirt with your grey joggers for women. The idea with joggers is to have fun and create a mesh of comfort.
● Camo Joggers with a Denim Jacket
Camos have always been in style and will continue to be so in the future. Pairing camo joggers with a denim jacket can never go wrong. The only thing you will need in this pairing is a black or white plain tank top, t-shirt, or racerback top to accompany the look. You can add several layers, like the denim jacket. But if you don't want to wear a jacket with your joggers for women, you could also wear a plaid shirt.
● Complete White Joggers Outfit
You can style joggers for women by creating a full-blown sporty look and playing with different colours. When you create a sports outfit, it is equal parts off-beat and comfortable. Complete your look by wearing fitted white sweatshirts accompanied with slender jogger pants. You can also push your fashion limits as much as you want by pairing the joggers for women with running shoes or Converses. You can also wear big hoop earrings to make yourself look more eye-catching.
● Create an Emo Look with Joggers
If you want to create a gothic or grunge look with joggers for women, pair them with an oversized hoodie or t-shirt of your favourite rock bank. You can also gel a pair of combat boots and a bomber jacket to create your perfect look. Carry a stylish tote or a cross-body bag if needed.
● Red Joggers with Denim
If you want a colourful range of joggers for women, you could create an outfit with bright, colourful, and bold joggers. You can go all out or add something to mellow your outfit. However, you can always keep one bold piece, such as a red jogger.
● Black Velvet Joggers with Oversized Sweater
Sometimes joggers become too casual and may not be appropriate everywhere. But you can always pull a velvet jogger for women and wear them with any tunic top, off-shoulder denim, or graphic t-shirt. You can skip wearing any shoes and pair your outfit with a pair of pumps to make it look better.
How Have Joggers Become a Trendsetter?
With the evolution of joggers for women, the clothing style has become a new trendsetter in the fashion industry. More and more women are opting to wear something they can lounge indoors and go out in without attracting strange looks. You can easily style the entire outfit with a comfortable and good-looking top, and a good pair of shoes.
Joggers are more like smart sweatpants. They are not heavy knit but already come in the style and look that sets the fashion trends. Most brands also make them more comfortable by infusing cotton into the material. However, it can be a great travel partner if you want to go with woollen or linen joggers for women.
Compared to many other kinds of trousers, joggers are a great alternative. Their length and ankle are similar to skinny jeans but do not compromise comfort. Joggers for women are versatile, making them great for most occasions.
Conclusion
Joggers for women are here to stay for long! You can create as many outfits as you want with your joggers and use them for different activities. You can go on a run, spend your time indoors, or meet some friends; there is not much you cannot do without a good pair of joggers.
You can get some of the best women's joggers from reputable brands, who provide you with the best quality you can find.