India has a global reputation for its many religious traditions, illustrious past, and cultural abundance. Lakhs of tourists flock to India each year to see the country's many sacred sites. Many people are interested in seeing their historic structures and artworks.
In addition to great cultural significance, these temples are considered wealthy. These religious buildings are worth more than a hundred million rupees each.
In India, you can see some of the most elaborate and ornate temples.  These holy places are well-known for their wealth and magnificence, from the renowned Golden Temple in Amritsar to the lavish Padmanabhaswamy Temple in Kerala. Donations from worshippers assist to fund many of these temples' costly activities.
India has a long and illustrious history, and its many diverse religious sites include numerous temples that are both ancient and well-preserved. Here is the list of ten richest Hindu temples in India.
List of Richest Temples In India
1. Tirupati Venkateshwara temple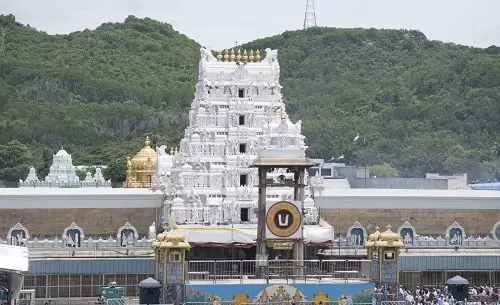 Worth-650 crores
If you're looking for a place to worship, go no farther than Tirumala Tirupati Venkateswara Temple. This temple, perched on the 7th peak of Venkata Tirumala Hill, is famous for its ornate design and furnishings. Furthermore, the temple is one of the wealthiest in the world due to its extensive collection of priceless jewels & relics.
The Tirumala Tirupati Temple is revered not only for its monetary value but also because Hindus consider it to be a physical incarnation of Vishnu, the true god. Hence, each year, millions of Hindus travel to this temple to pray and offer prayers. This Temple is a must-see for anybody, whether you're interested in religion or just want to gawk at its splendor.
2. Sri Padmanabhaswamy Temple
Worth- 1 lakh crore
Lord Vishnu is worshipped here, and the old Travancore royal family oversees the temple's upkeep. Beautifully crafted in the Dravidian style, the architecture is breathtaking. This temple's Padmanabhaswamy idol is the main attraction. Ananthan, the cosmic serpent, features a reclining Lord Vishnu. From this sacred site, the city takes its name.
Gold, gold idols, ancient silver, emeralds, diamonds, and brass are just a few of the items in the temple's collection that contribute to its estimated 90,000 crores in total value. Two solid gold installations and a pair of golden coconut shells set with valuable stones are also included in this collection.
3. Siddhivinayak Temple
Net Worth 125 crore
Among the world's most lavish religious structures is India's Siddhivinayak Temple in Maharashtra. Since the early 1900s, the temple's sacred statue of Ganesha has attracted devotees and sightseers alike.
The temple was once a modest brick building, but it has since grown in popularity and is now within easy walking distance for many worshippers. But you may waste hours waiting in line if you don't plan ahead and go on the proper days. Be sure to observe how the priests inside the temple handle the flow of worshippers.
4. Shirdi Sai Baba temple
Net Worth 427 Crore
One of the world's most lavish religious buildings is indeed Shirdi Sai Baba Mandir in Maharashtra. The temple was built in 1922 and has since become a major destination for religious tourists. Aside from its stunning design, this temple is also well-known for its welcoming attitude towards individuals of various faiths and social classes.
The temple is among the top tourist attractions in India, attracting millions of visitors each year. Seeing Shirdi Sai Baba shrine in person is the best way to find serenity within and witness some of the world's most beautiful buildings.
5. Golden Temple, Amritsar
Net Worth 320 crore
The Golden Temple, the Sikh spiritual and cultural centre, is the seventh wealthiest temple in India. Sri Harmandir Sahib is the name given to the temple that holds the Guru Granth Sahib, the sacred text of Sikhism.
The Gurudwara's upper floors, known as "The Golden Temple," are crafted from 400 kg of gold. A museum chronicling the Sikh religion and its history may be found in the structure just across the street. It is rich in material resources and it holds profound religious value.
6. Meenakshi Temple
Net Worth- 469 crore
Many of India's temples are considered among of the world's most ornate. The Meenakshi Temple in India, for instance, draws tens of thousands of tourists every day and brings in sixty million dollars every year. The temple's 33,000 sculptures & 14 gopurams (towers) are especially noteworthy. The Venkateswara Temple in the Andhra Pradesh is another one of India's most lavish religious structures.
Around a hundred million people visit the temple every year to pay homage to Venkateswara, an incarnation of the Hindu god Vishnu. The enormous volume of visitors to the temple can be attributed as part to its policy of providing free darshan (holy sighting) to everybody who visits. This Venkateswara Temple is among the most popular Hindu pilgrimage destinations and one of the wealthiest religious buildings in India.
7. Somnath Temple
Net Worth- 900 crore
This temple was so famous and rich that it was demolished 17 times by the Turkish sultan Mahmud of Ghazni in order to steal its gold and silver. This is still one of the wealthiest temples in India because it houses so many priceless artifacts.
It is of great religious significance and displays distinctive architectural design. The coastal temple was built in a smart, methodical manner, and it has since become a popular place of worship and tourist attraction.
The Somnath Temple is one of India's (and the world's) most opulent religious structures. Over 6 million tourists visit the city each year because of its prime location in Gujarat.
8. Ayyappa Temple
Net Worth 78.92 crore
There are over one hundred million annual visitors to the Sabarimala Ayyappa Temple, making it one of the most popular religious sites in the world. The temple sits on a mountaintop, 4,133 feet above the sea level, &  is encircled by mountains and trees. Strangely, women are not permitted inside this temple.
It is estimated that thePu annual revenue received by the Sabarimala Temple during the pilgrimage season is roughly Rs. 230 crore. As a result, it ranks among the most visited holy sites in all of India. The temple's stunning location and extraordinary design make it a must-see for any tourist in India.
9. Jagannatha Temple,Puri
Net Worth- 150 crore
Another one of India's magnificent temples, the Jagannath Temple, is similarly revered for its spiritual importance. A report from 2010 said that the Lord Jagannath Temple had more over Rs. 150 crore in its bank account. Donations of between Rs. 15,000 and 20,000 to the temple double by a factor of six during the holiday season.
Every day, over 30,000 people—and up to 70,000 during celebrations—visit this temple. Vacationing in Puri wouldn't be complete without paying respects at this sacred shrine.
The Jagannath Temple in Puri, Odisha, is a major Hindu pilgrimage site in India. The Vishnu avatar Lord Jagannath is the focus of worship at this temple. Rath Yatra is the most important celebration; during which devotees drag chariots depicting Jagannath, his brother Balabhadra, and his sister Subhadra through the Puri streets. The Jagannath Mandir is one of the four most significant Hindu pilgrimage destinations in India, known collectively as the Char Dhams.
10. Vaishno Devi Temple
Net Worth- 500 crore
With a yearly income of almost Rs. 500 crore, Vaishno Devi Temple ranks among the world's wealthiest religious institutions. The temple attracts millions of worshippers annually to its location in Katra, Jammu & Kashmir, India. Every year, thousands upon thousands of devotees make the journey to the sacred site of Goddess Vaishno Devi, the centre of Hinduism's most fundamental beliefs.
The temple is not only one of the wealthiest religious institutions in India, but also one of the most visited tourist spots in the entire country. The Vaishno Devi Mandir is one of the wealthiest in India, with visitors spending billions of rupees annually on worship and charity.
Conclusion
Many of these temples are among the most well-known and prosperous in all of India. You can visit any temple you wish on your next vacation. The figures presented here are estimates based on reports, as all temples trust occasionally hide the actual revenue & profit.