In a time when educating girls past secondary school was an unpopular practice, a young girl was dreaming about Rockets and missiles. Born in April 1963, in Kerala, Tessy Thomas did not know that her insatiable curiosity and passion for science would lead her to become the most prominent scientist in the field of missile technology and she would gain the moniker "Missile Woman of India". Her childhood near Thumba Equatorial Rocket Launching Station in Trivandrum ignited her fascination with rockets and missiles. The sight of flying aircraft fueled her curiosity further, which served to lay the foundation of her lifelong passion for aerospace and missile technology.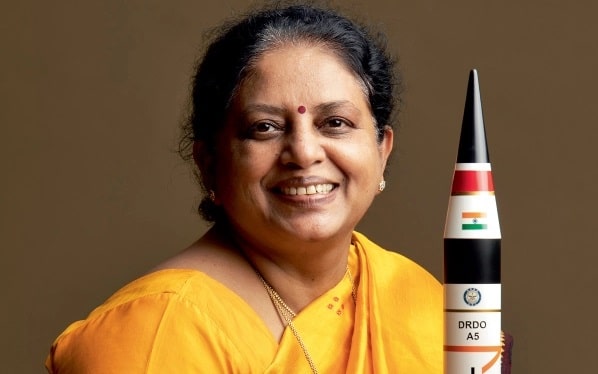 Proving that "morning shows the day", Tessy exhibited unparalleled intelligence and a keen interest in mathematics and physics from her early days. Recognizing her potential, her parents encouraged her to chase after her dreams. They prioritized her education and ambition, despite all the crises they had to face, and ensured that she would receive the best possible opportunities.
She started her journey at ST. Joseph's High School in Kerala and showed top academic prowess consistently which garnered positive attention and encouragement from her teachers and peers. She even secured a scholarship to pursue engineering at Thrissur Engineering College after completing High school with flying colours. Her thirst for knowledge flourished over there and her passion turned to technology. She embraced every opportunity to expand her knowledge and immersed herself in her studies. With her exceptional aptitude, she successfully entered the Institute of Armament Technology, Pune, to pursue her master's degree in the field of Guided Missiles. Under the guidance of prominent researchers and scientists, she honed her skills and developed a profound understanding of missile technology. Her commitment and determination prompted her involvement in crucial projects like Polar Satellite Send-off Vehicle (PSLV) and the Agni-V, India's first intercontinental ballistic missile.
Tessy Thomas joined a key institute liable for India's missile development programs, the Defense Research and Development Organization (DRDO), in 1988. Appointed and mentored by A. P. J. Abdul Kalam himself, her exceptional technical expertise and capability to tackle complex issues propelled her through the ranks, and she became a project director in 2009. She had to face numerous challenges while leading the Agni-IV missile project. The development of state-of-the-art missile technology required meticulous planning, thorough testing, and perfect execution. She worked tirelessly, administering every aspect of the project, from design and development to production and testing. It is an undeniable truth that her leadership and technical acumen played a major role in the successful test-firing of the Agni-IV missile, reinforcing India's defence capacities.
Tessy's success did not go unnoticed. In 2012, she shattered gender barriers and became a role model for aspiring female scientists by becoming the first-ever woman to hold the coveted position of Director for Advanced Systems Laboratory (ASL), one of the premier missile research institutes in India. Under her leadership, ASL made significant advancements in missile technology, making a huge contribution to India's defence preparation.
For her exceptional contribution to the field of missile technology, Tessy Thomas has been recognized with several prestigious awards. Her phenomenal work as a scientist earned her DRDO Agni Award for Excellence in Self-Reliance in 2001. This proved to be one of her many accolades. She was also decorated with the DRDO Scientist of the Year Award in 2008. In 2012, she received Lal Bahadur Shastri National Award for Excellence in Public Administration, Academics and Management. These significant achievements are a testament to her brilliance, dedication and invaluable contributions to India's defence capabilities.
The influence of Tessy's life and story extends far past her professional achievement. She stands as a beacon of hope for women throughout the country, exhibiting the groundbreaking power of perseverance and determination. Her perseverance in the face of obstacles working in a male-dominated sector despite cultural expectations and gender prejudice is inspirational. She tackled the obstacles with her unwavering commitment to her goals, proving that brilliance has no gender boundary. Tessy's journey serves as motivation for aspiring women, encouraging them to overcome barriers, follow their passions, and strive for excellence in any profession they choose.
At present time, 60 years old Tessy Thomas is leading the Aeronautical Systems Cluster Laboratories as Director General. She remains an influential figure who devotes her time to inspiring and nurturing young minds. Her active engagement with students to share her experience and expertise encourages them to pursue a future in the fields of science, technology, engineering and mathematics (STEM). She showcases the immense possibilities and opportunities that exist in various fields through her work and achievements. Her passion for education and dedication to empowering the next generation not only encourages interest and enthusiasm for STEM fields but also serves as a beacon for aspiring young individuals, motivating them to aim high and make a difference in the world.