When you get tired from a hectic day of office or daily life chaos all you look around are just some moments of self-appreciation and self-love. But in the daily rush of life, we often forget to take some time out for ourselves, and our well-being. Prioritizing every other thing except yourself is never a healthy option, self-love and self-care is the best type of care. Because, with the changing world the theory of service has changed from "let others first" to "keep yourself first".
Every great self-care starts with making yourself feel comfortable in your skin and making the aura around you fill with positivity. A perfect way to start the process of positivity in and around you could not be more perfect than spending a day in the spa all alone. A day dedicated to you without the rush of those overpopulated & polluted streets, and environment
A spa is a place where spring water with high mineral is used to give medicinal baths. The spa is an acronym of the Latin word 'Salus per Aquam' meaning 'health from water' Earlier in Rome, it helped to treat the aching muscles and wounds of war soldiers, and that's how it has always worked as a healer whether for the wounds that are physical or issues related to one's inner self. Spa follows certain rituals which are a combination of treatments that are designed to help you find inner peace and tranquility- to make yourself whole again. The process of such rituals helps you calm your mind and make your body more receptive to the healing aspects of these treatments.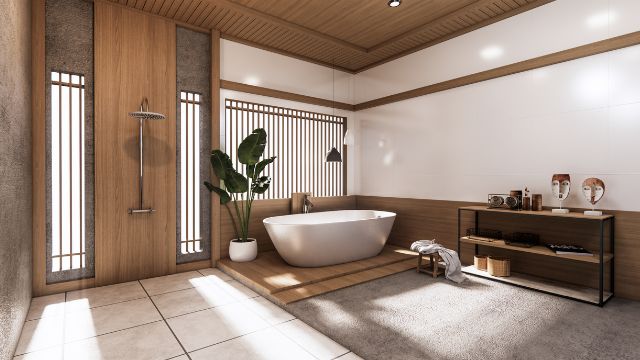 However, many people get mixed up with spas, hot tubs, and jacuzzis. So, it is foremost to know the similarities and dissimilarities among all. Jacuzzis, hot tubs, and spas all offer a type of hydrotherapy means: therapy done with the help of water, recreation, and relaxation. The major difference between Spas and hot tubs is their use. Spas are mostly standalone or in-ground structures that provide health treatments with the help of water therapy treatments. Whereas, hot hot tubs are usually portable with their installation and, electric control system. And the great similarity is that the spa is an umbrella term that refers to water therapy, which includes Jacuzzis also. Also, Jacuzzis is a trademarked brand name.
If you are also one of those person who want to help people with their self-healing and self-help job, then you can even open a spa of your own. It's not even as difficult as you think It just needs some good water facility, an esthetician, and a good interior design. Interior is the first thing that attracts a customer and changes the vibe & aura around them. The structure of the Spa is one of its significant elements & here are a few tips to choose the best design contractor for the Spa or Jacuzzi :
1. CONSULTATION – It is always important and helpful to take consultations for designs from different people around you. Ask people about some of the best spa design contractors in Dubai, according to them, and then go with the one with the majority of votes and the one with the best design samples.
2. BUDGETING – Budgets always play a special role in creating or shattering your dream place or things. Things done without or out of budget may affect you financially and may lead to problems in the future. So, it's better to consult your contractor about whether will they be able to manage the whole thing or set it up in the available budget. It's always better to clear things in the first place than leaving them on mid-path. Contractors and their work may vary from budget to budget but it's your responsibility to make sure you & contractor are both on the same page and they should try their best to deliver the max within that prescribed budget.
3. PERSONAL INTERACTION WITH DESIGNER – If you are hiring a contractor for your design consultation and, giving them the responsibility to change one basic place to one of the luxurious spa or jacuzzi then you need to meet the designer personally and guide them with your wants & dreams specifically, that to being in budget and a good spa design contractor in Dubai will try his or her best to keep their name up.
4. RESPONSIVENESS – How frequently and swiftly your contractor is replying and responding to you tells a lot about how they are going to be with you throughout their contract how are they going to turn things up, are they able to work up to your expectations or, not.
5. CUSTOMER REVIEW – If you are giving a charge of a place to someone with a huge sum of money, then it is your sort of responsibility to know about their previous customer review and design samples so that you can make yourself sure enough to hand them the responsibility of your spa or Jacuzzi.
6. CONTRACTOR LICENSE – All states require licensing for their building contractors. These laws have passed to protect property owners from incompetent or dishonest contractors. The licensing process tests basic competency and, ways to screen out dishonest contractors. A valid license is the first indication that your contractor might be qualified to do the job and serve you the best. If they are not showing you their License, then beware it may lead to future difficulties.
7. SIGNING THE FINAL CONTRACT – Make sure to double-check all the terms and conditions of the contractor and everything you want them to do to make your thing the best. And, once you are satisfied with everything and are willing to make things happen sign the contract with the contractor and make sure to keep one copy with each one of you.
Once you have done with these basic steps you are not too far away from your final destination of making your dream of having a spa of your own and making it one of the most profitable businesses for you with some of the best Spa and jacuzzi contractors in Dubai.
You can even ask your contractor to add extra details to make your spa look better by adding different types of elements such as flowers, fountains, & garden landscaping to your property. Adding different elements and colors to a room increases the depth of the place and helps people to relax and get relief from stress. Similarly adding plants around the place helps to attach oneself with nature's healing process and it also works as a therapy in spas which is quite popular with the name of aura cleansing.Landscaping of garden is also getting quite famous as it helps in the overall look development of a place. Garden landscaping in Dubai is also quite popular as it is the measured manipulation of the grounds around a property & it can enhance the look of any place in almost no time.