Gujarat is a state where the centuries-old customs and great history are evident in every facet of daily life. Gujarat is home to a wide variety of geographical and cultural features, from the Great salt desert to the kingdom of Krishna himself.
 The inhabitants of Gujarat have a distinct fashion style that, like its cuisine, architecture, and manner of life, sets it apart from rest part of India. It symbolizes the harmonious coexistence of tradition and progress.
Below is a comprehensive detail of the Gujarati clothing typically worn by men and women of Gujarat: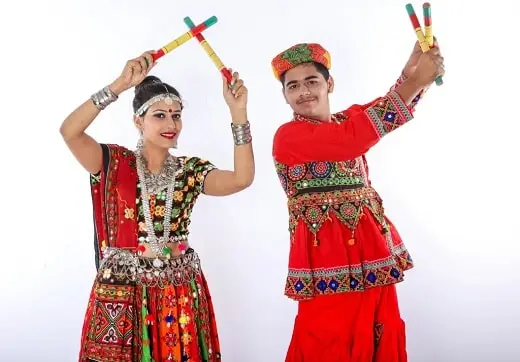 Traditional wear of Gujarat for Men
Chorn
If you visit Gujarat, you'll see that the local males wear a style of cotton pants which looks just like a dhoti. This item of clothing is ideal for warm and humid climates because of its relaxed fit and ease of movement. Men typically secure it to their waists with a belt or an elastic band. Chorns, as these garments are known, are widely available in any of the city's many marketplaces.
Kediyu
Men in Gujarat traditionally wear a frock-style kurta with frills known as Kediyu or Angrakhu. It is worn atop the chorno to shield one's upper body from the elements.
Kurta
Kurtas, the traditional garment of several Indian states, have also established themselves as a staple of men's clothing in the state of Gujarat. A man's cotton shirt is a top worn over the body. Embroideries and elaborate motifs are commonplace on festival and occasion kurtas.
Dhoti
Men traditionally wear a long cloth called dhoti to cover their legs and thighs. The garment is worn by wrapping it around the wearer's waist and tucking it in at the hips. Men in Gujarat typically wore dhotis that were white or a very light color.
Phento
The Phento, a multilayer fabric turban worn by most men in rural Gujarat, is a distinctive feature of the region's fashion.
This is a standard item that anchors the outfit as a whole. These unique pieces of headwear are simple to find, as they are made by layering and wrapping strips of cloth around the head.
Traditional wear of Gujarat for Women
Chaniya Choli
Obviously, this traditional Gujarati garment is among the most widely used items of ethnic attire. During a festival or other traditional event, women will wear this traditional dress, which is crafted from colorful designs, mirror work, & amazing ethnic designs.
 Ghagra, a traditional Indian dress that can be paired with either a Dupatta (known as an Odhni) or a Chunri, has gained international acclaim for its vibrant and alluring appearance.
Chaniyo
A Chaniyo and a Lehenga are visually similar enough that they could be mistaken for one another. This article of apparel resembles a petticoat and comes in a variety of colors; it also has the silhouette of a classic skirt.
 The Chaniyo is loaded with one-of-a-kind thread works as well as mirror works, making it a stunning accessory. The bottoms of a Chaniyo look great with a lovely top or a tunic.
Chunni
The Chunnis of Gujarat, a traditional and cultural dress, are known the world over for its vibrant colors, intricate patterns, and endearing styles.
Everyone is familiar with this lovely accessory, which goes well with Lehenga, skirts, & Kurtas. Women in the rural areas of Gujarat may drape a Chunri across their shoulders or wear it as a head covering. This is not limited to the state of Gujarat but is instead visible in whole India.
Saree
A saree is an Indian garment consisting of a long swath of fabric worn by women, with the excess draped over one shoulder. Gujarati women, on the other hand, drape their saris such that the end is visible at the front.
Gujarati ladies use the silver hook to secure their saree around their waist and keep their house keys in it. This is due to the fact that traditionally, women's responsibilities centered on the home. This is because women have historically been expected to perform domestic duties.
Accessories
A Gujarati woman would be incomplete without her jewelry, which serves as a status symbol, a symbol of her marital status, and a window into her culture. The Bangles, Mangalsutra, Necklaces, Traditional Nose Rings, Ethnic Earrings, etc are all essential accessories for a married woman in Gujarat.
 Small Bali or loop earrings are common among single women and females. They also frequently use naths, or studded nose rings. Gujarati ladies and married women across India place great importance on the practice of wearing a Bindi and Sindoor.
Another popular accessory among engaged Gujarati women is a key ring with tassels that hangs from the waist.
Conclusion
Both men and women in Gujarat wear clothes that are brightly colored and often embellished with accessories. They also frequently add accessories and jewelry of the highest quality.