Makeup on your face not just shows yourself a beautiful Diva but also you will feel confident in yourself with a good sense of makeup when you go out to attend interviews and meetings.
In the entire face, eyes are the parts that should look more attractive. To make the eyes a well looking one with makeup items, an eyeshadow palette is what you must have in your makeup kit.
There are many makeup brands introducing to the market selling eyeshadow palette now and then, it's good to be understand the goodness in the brand before you buy eyeshadow palette.
Even there are some unknown brands too which are highly not advisable at all.
So, here I have curated a list of 7 best eyeshadow palette brands in India which you can try either one or few from the list to use on your eyes for a mesmerizing look.
7 Best Eyeshadow Palette Brands in India
1. 39 Colors EyeShadow Palette by MARS Cosmetics
Regardless of the time you go out whether day or night, the Mars 39 color eyeshadow helps you create subtle looks in the day and last till the night. The eyeshadow palette comes with mix and match shades that give you a perfect look and add more glam feel to your eyes.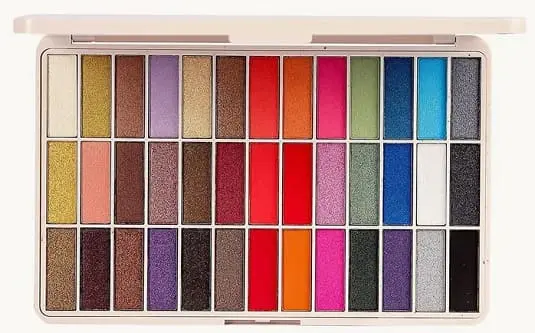 The MARS 39 color eyeshadow palette is a must-have one in your cosmetic kit. It's lightweight and you can seamlessly have it on your handbag for everyday use.
The palette has a mix of cool and warm tone shades. So, you can easily use any color from it according to your makeup foundation and other stuff.
2. Winky 36 Colors Eyeshadow Palette by Swiss Beauty
Swiss Beauty, one of the top brands in offering cosmetics also supplies some good range of eyeshadow palettes.
Winky 36 eyeshadow palette by Swiss Beauty is the best seller in the eyeshadow category. The company also sells a vast range of eyeshadow palettes in different shades and color variants.
The Swiss Beauty eyeshadow palette items are smudge-proof. Whether you have oily skin, brown skin tone or even other skin tones, the different colors in the Swiss Beauty eyeshadow palette will be good suitable for all skin tone types.
3. Absolute Spotlight Eyeshadow Palette by Lakme
There are four different vibrant packs of shades available in the Lakme Absolute Spotlight Eyeshadow Palette named Smokin Glam, Stilettos, Sun Downer and Berry Martini.
The eyeshadow palette comes in a mix of 48 shimmers and matte shades that can be helpful to redefine yourself in a most glam look. As said the colors are vibrant and it would be good to have a shadow on your eyes for your every mood.
For the perfect yet subtle looks on your eyelids, try the Lakme absolute spotlight eyeshadow palette.
4. Nectar Crush Eyeshadow Palette by Colorbar
You can't simply skip the brand 'Colorbar' when you write about any makeup items in India. The Nectar Crush Eyeshadow palette from colorbar comes with golden hues that make you feel better than ever before.
The eyeshadow palette designed with rich formulas to change your eyes' usual looks into the most beautiful yet attractive looks.
The colorbar nectar crush eyeshadow palette box comes along with a double ended eyeshadow brush by which you can apply the eyeshadow on your eyelids yourself.
5. Eye Talk HD Eye Shadow by Iba Cosmetics
Another best eyeshadow palette in the list by Iba Cosmetics. The Eye Talk HD Glam Life eye shadow is the best choice to get the glamorous party look in you.
The shade contains neutral tones with some high intensity colors which can stay for long hours. Possibly, if you apply in the morning, it will last till the night.
The eyeshadow gives you a velvety smooth texture and it is easy to blend and smudge proof.
6. Brown Sugar Eye Shadow Palette by ColorEssence
For the finest eye looks, the brown sugar eye shadow palette by the brand ColorEssence might be the next big addition to your cosmetic kit.
The eyeshadow palette comes in 8 different colors which are a combination of the shimmery and intense gold glittering shades that can make your look not just perfect but roam like a glam doll.
The eyeshadow palette is waterproof and smudge-proof as well.
7. Ecostay Velvet Eyeshadow by Lotus Herbals
Lotus Herbals is a well-known popular Indian brand that sells cosmetics in wide varieties. The brand sells eyeshadow palette in different classy shades such as autumn feel, orchid freshness, moon night and forestry.
Each of the above said shades comes in four different colors as all the combination colors look promising and adds some extra powerful look to your eyes.
For matte and shimmery eye looks with subtle colors, try the Autumn Feel eye shadow palette by Lotus Herbals.
Conclusion
If you are feeling stuck between the above listed 7 eyeshadow palette brands when it comes to choose one or two brands, my two top picks in the list will be MARS Cosmetics and Swiss Beauty.
Try either one and you will for sure be amazed with the quality and price offered by both the cosmetic brands.