OTG stands for Oven Toaster Griller is an appliance that can be used for different purposes.
Most probably, the OTG appliance offers the service of baking foods quickly as well as re-heating the foods.
The OTG appliance becomes a kind of must-have home appliance in India and so the demand for the product keeps on increasing year by year.
There are so many brands in the Indian market that sell OTG.
So, there might be a confusion between the OTG brands. If you are one who is seriously looking for the best OTG brand to buy for baking in India, just make enough use of the blog post.
I am listing out a few best OTG brands in India that work well for baking purposes.
List of Top OTG Brands to Buy for Baking in India (September 2022)
I have read so many reviews of OTG brands and then prepared the list according to what serves the best to the Indian customers.
1. Borosil OTG Brand – Healthiest Ways to the Tastiest Meals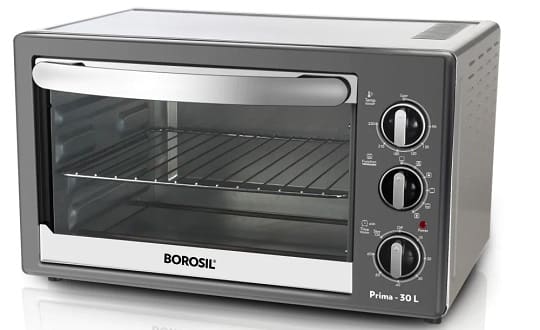 For the effective and quick baking, Borosil OTG brand uses 360 degrees of air circulation. Out of all in the list, I found 'My Borosil OTG brand' way ahead because of the features and price offered by the company.
Borosil OTG appliances capacity range starting from 10 liters and available in capacities of up to 60 liters. The company offers too many products in their OTG segments with different features. You can avail one according to your requirements.
There is a rotisserie feature in almost all the Borosil OTG appliances by which you are able to roast a whole chicken in a couple of minutes.
The OTG brand in India comes with a convection heating which can serve you tastiest and healthiest foods. Importantly, you can even cook foods with the help of OTG appliances powered by My Borosil.
The Borosil Oven Toaster Griller appliances are affordable compared to other brands. Possibly, you can avail up to 20% of discount from the brand.
2. Agaro OTG Brand – For a Budget-Friendly OTG
Agaro is another well-known Indian brand that sells a wide range of OTG appliances at budget-friendly prices.
The company is providing 1 year warranty for all its OTG appliances. A best brand for those who are searching for OTG especially with adjustable temperature options. In the Agaro OTG appliances, you can seamlessly adjust temperature from 100 degree C to 250 degree C.
Same as My Borosil brand and other OTG brands listed in the blog post, the Agaro OTG appliances also support multi-level cooking such as bake, grill, toast and many more.
3. Prestige – Offering Top-Notch OTG Features
Prestige is the go-to brand for many Indian families when it comes to buying home and kitchen appliances. The most popular brand offers wide varieties of kitchen items.
At present on their official website, they have listed out only the OTG model which is Prestige POTG 9 Oven Toaster Griller which is actually a 9 liter capacity OTG, a good choice for little families with 3 to 4 members.
If you are searching for some best OTG appliances to buy below 4000 INR range, you can then try the popular cooking appliances brand Prestige POTG 9 OTG.
4. Morphy Richards OTG – Exclusive Products for Indian Consumers
The company Morphy Richards does sell some exclusive futuristic OTG products that suit fine for Indian customers.
With Morphy Richards OTG appliance, you can easily bake healthy and tasty cakes and other food items such as Pizza, Pasta, Tikka, Kebabs etc…
Whether you are looking for home use or even for commercial purposes, the company has a lot of OTG appliances in different capacities.
The higher capacity you choose the bigger foods in size you can bake. There is a unique feature by the OTG brand called 'Stay On' by which the foods prepared in the Morphy Richards OTG can stay fresh for up to 2 hrs.
The company has an exclusive webstore for Indians to buy their OTG appliances in India.
5. Bajaj OTG Brand – Best for Lightweight OTG Appliances
The best thing about the Bajaj OTG brand is that all the OTG appliances under the brand come with stainless steel bodies and glass doors. So, you can look lively inside the OTG and enjoy the whole cooking process.
The materials used in the Bajaj OTG brand are easy to clean, So, you never bother about cleaning the OTG process. It's easier than you think.
Like brands listed in the blog post, Bajaj also sells a wide range of OTG in different features and size capacity.
For delicious food preparation and baking quality cakes, you may try the Bajaj OTG brand.
Conclusion
Oven Toaster Griller is actually a mini version of a classical oven. For those who cannot afford ovens can buy OTG and make use of the features.
And, when it comes to choosing the best OTG brands to buy for baking in India, you may want to look for many factors to decide. But, the above listed five are top selling OTG brands and you do not need to look after other brands that are not listed in the blog post.
Just compare one you choose with the four other different OTG brands and decide what looks suitable for your needs and finalize one OTG brand of your choice.