Bhai Dooj, is a Hindu ritual, celebrated by the people in India and Nepal, on the second lunar day of Shukla Paksha, in the month of Kartika, according to the Vikram Samvat calendar. This festival is celebrated during the major Hindu festival, Diwali, a celebration of lights. This festival and rituals followed are similar to that of another Hindu ritual, Raksha Bandhan. On this special day, sisters pray for their brothers well being and gift their brothers and also tie a rakhi on his hand. In return, brothers also gift their sisters with money. This celebration differs from place to place and is also known in other names like Bhai Tika, Bhai Dooj, Bhai Phonta, etc. The name differs according to the regions.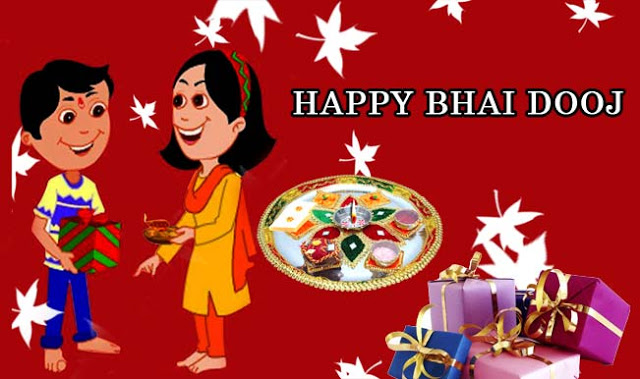 This festival is celebrated for acknowledging Lord Krishna's visit to his sister Subhadra's house, after slaying the evil King Narakasura. During this visit, his sister paid him a warm welcome and served him his favourite sweets. Including this she applied Tilak on his forehead, as a sign of victory.
Rituals and Celebrations of Bhai Dooj 2018: 
On this special day, sisters invite their brother, to their house. They serve them their favourite dishes and sweets. The sisters also perform aarti to their beloved brothers and apply tilak on their forehead. This festival may slightly differ in Central India. Girls who are not having brothers on this special day, worship the moon god and apply mehendi to other girls.
In West Bengal, this function is celebrated as Bhai Phonta, were the brothers and sisters, should be of the age limit of 5 years. Brothers are served with sumptuous feast. This festival is celebrated to acknowledge the bond of love between brothers and sisters. Everyone who are having brothers or sisters, wait for this day with much enthusiasm. Sisters also present their brothers with surprise gifts. It is brothers duty to protect their sisters and sisters duty to pray for her brothers good health and long life. This festival is celebrated for acknowledging this concept.
Date, Puja Time and Muhurat Bhai Dooj 2018: 
Since this day is celebrated according to the Hindu calendar, Vikram Samvat, it tends to vary according to the Gregorian calendar.
Date: Saturday, November 9, 2018

Bhai Dooj Tika Muhrat: 14:21 – 17:04

Duration: 2 Hours 43 Minutes