There is both a ruling party and a political opposition in India's politics, just like in every other democratic country. Here, political parties have been established on the basis of shared ideologies. Also, there is a wide spectrum of ideologies represented among India's political parties.
Leftist politics are based on liberal, secular, and subversive values. In contrast, right-wing politics tend to favor pro-government, orderly, conservative, and traditionalist values. Certain leaders in such a situation would wield more sway than others in their respective regions or the entire country.
Here is a list of Famous Indian Politicians in 2023
1. Narendra Modi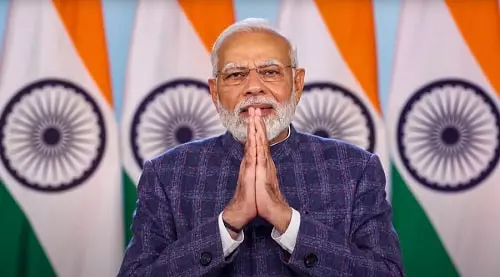 The arrival of the devoted, energetic, and visionary Narendra Modi brings new hope to India's billion-plus population. He has risen to the ranks of India's most popular leaders thanks to his unwavering commitment to progress and proven track record of getting things done. He pledged to build a strong, prosperous, and welcoming nation where every Indian has the chance to follow their goals. Narendra Modi as a Prime Minister has left an indelible mark on India and the world.
Many consider him a "leader of the people." In addition to his exceptional, personal 'connection' on the ground, he also has a robust presence online, where he is regarded as India's most technologically competent leader, using the internet to reach people and affect the way they live. He spends a great deal of time participating in online communities and social media sites like Twitter, Instagram, Google+, and others. His prominence among India's political leaders is undeniable.
2. Amit Shah
Former businessman and senior (BJP) leader Amit Shah was named Union Home Minister in the second term of the Narendra Modi-led national government. The "Chanakya" of modern Indian politics, Shah is Modi's closest advisor and has been credited with steering the BJP to success during successive elections as party president.
After he was elected as a state representative in 2002, he quickly rose through the ranks to become the youngest minister in the Gujarat administration. At one point, he was in charge of 12 different departments.
3. Rahul Gandhi
The son of former Congress president Sonia Gandhi as well as the late Rajiv Gandhi, Rahul Gandhi is also a prominent Indian politician.
On December 4, 2017, after months of lobbying from party members, main proposer Sonia Gandhi, & former PM Manmohan Singh, Rahul formally announced his candidature for president of the Congress. This effectively ended the 2 years of speculation within the party regarding his impending ascension.
Sonia Gandhi, the party's president for the past 19 years, stepped down on December 11 to make way for her son, Rahul Gandhi. In an inner election that included 9,000 delegates from throughout India, Rahul Gandhi was selected as the party's president.
For a time, Rahul held the positions of Vice President and Chairperson of Indian Youth Congress as well as the Indian national student union, respectively.
The Rahul-led party did abysmally in the general elections of 2014, winning only 44 seats compared to 206 in the 2009 election.
4. Yogi Adityanath
The present Uttar Pradesh chief minister is Yogi Adityanath. His political affiliations lie with the BJP.  Moreover, Yogi Adityanath is indeed a monk who religiously follows Hindu religion.
Political firebrand Yogi Adityanath is from the district of Gorakhpur and is a right-wing nationalist who advocates for Hindutva. Janjagran Abhiyaan was first launched by him in Eastern UP. In an act of protest against caste and religious discrimination, he ate with individuals from all walks of life. In 1998, he ran for the Loksabha for the first time. After being elected as a chief minister of UP, he resigned from the post of member of parliament.
5. Arvind Kejriwal
Since February 15, 2015, Arvind Kejriwal has served as both the chief minister of Delhi and the national coordinator for the Aam Aadmi Party. He was elected chief minister in December 2013 and served for 49 days before resigning because his party's allies in the legislature refused to support his efforts to pass anti-corruption legislation. To some extent, he represents the new generation of successful political leaders in India.
6. Uddhav Thackeray
During the 2002 BrihanMumbai Municipal Corporation elections, Thackeray first entered politics as the Shiv Sena's campaign manager. In 2003, he was elected as the interim president of the Shiv Sena. Saamna is a daily Marathi newspaper published by the Shiv Sena.
Uddhav took over as its editor in 2006 and resigned in 2019 as the CM of Maharashtra. Rifts emerged within the party when his cousin Raj Thackeray broke away from the Shiv Sena in 2006 to form the Maharashtra Navnirman Sena.
Bal Thackeray's son Uddhav took over the party after his father's death in 2012, became the candidate for president of Shiv Sena in the year 2013, and led the party into an alliance with the government of NDA in whole Maharashtra in 2014. In 2019, Shiv Sena withdrew from the NDA and established itself within the UPA. Uddhav Thackeray serves as the minister of the Maharashtra government, which he helped establish by forming a subsidiary coalition called the Maha Vikas Aghadi.
7. Mamta Banerjee
Notwithstanding the fact that she divides opinion, Mamta Banerjee has gained widespread recognition in the realms of politics and government. She deserves to be considered one of India's top 10 leaders because of the many achievements she has made throughout her political career. She is well-known in Bengal, where she was just elected as chief minister. In West Bengal, where she was born, Mamta Banerjee enjoys tremendous support from the local population.
8. Rajnath Singh
Rajnath Singh is one of the top ten most influential politicians in India today, and he is also a member of the BJP.  He's another well-known face inside his party, and he's used his leadership skills to ascend to the highest levels of Indian politics. He worked closely with RSS while he was a student activist and has risen to become one of India's most prominent politicians. Former physics teacher turned politician Rajnath Singh excelled in school from an early age.
The Indian government promptly promoted this man to minister status, giving him responsibility for the welfare of farmers and agricultural workers. As a result of her time in this role, she was promoted to the position of India's Home Minister. Rajnath Singh is the current defense minister and a top leader in the BJP.
9. Nitish Kumar
Nitish Kumar has served as the CM of Bihar since February 22, 2015. Throughout the years 2005–2014, as well as for a brief period in the year 2000, he served in this capacity. He was a Samata Party member and Union Minister before becoming the leader of Janata Dal.
Kumar first entered politics in 1985 as a member of the Janata Dal and eventually became an MLA. The Samata Party was founded in 1994 by socialist Kumar and capitalist George Fernandes. After his 1996 election to the Lok Sabha and subsequent service as Union Minister under the administration of Atal Bihari Vajpayee, his party collaborated with the NDA. When Kumar's party, Janata Dal merged in 2003, he became the party's leader.
10. MK Stalin
The present and 8th Tamil Nadu's chief minister is MK Stalin who is among the Greatest Politicians of India. He launched his political career at the tender age of 14, when he established the Gopalapuram Youth wing. Nearly 35 years have gone since his political campaigns started, and Tamil Nadu governance cannot be divorced from them. He competed in 8 Assembly elections from 1986 to 2014, having won six of them.
Conclusion
All these Indian politicians listed above are remarkable in their field. They are known for their expertise and knowledge and how they are working 24×7 to take India to its newer heights.