Independence Day, is annually celebrated every year on August 15th in India, remembering the nation's Independence from the British Rule on 15th August, 1947. India was declared Independent after the Independence movement noted for Non-violent resistance and Civil Disobedience, led by Indian National Congress. Independence coincided with the partition of India and Pakistan, which resulted in huge violent riots and mass casualties and nearly 15 million people, was displaced due to sectarian violence.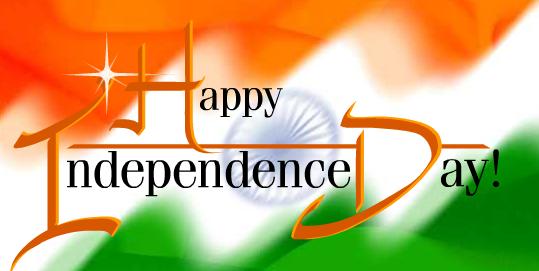 On August 15th, 1947, Jawaharlal Nehru was made the first Prime Minister of India and he hoisted the Indian National Flag above the Lahori Gate of Red Fort in Delhi and made the first Prime Minister speech in Independent India. All over the country it is observed as a National Holiday with flag-hoisting ceremonies, parades and cultural events.
History:
European traders established boundary in the Indian Subcontinent in 17th century. Due to overwhelming military strength of the British East India Company, they established themselves as a dominant force in 18th century. In 1857, First war of Independence was held, in which Indian showed rebellious action against the East India Company, followed by Government of India act 1858, which led to British Raj in India for nine decades. In the following decades, Indian National Congress developed notably and started protesting against the British Rule in India. The INC was led by Mohandas Karamchand Gandhi, who is famous for his non-violent act.
During 1930s, the British gradually legislated and Congress won victories in the resulting elections. The next decade was full of political agitation, were India participated in the World War 2 and Congress finally pressurized British rule with Non-cooperation movements and pledged themselves to civil disobedience. Meanwhile, there was an upsurge of Muslim Nationalism, led by All India Muslim League, which made an outburst after declaring Independence.
Independence Day Before Independent India:
Between 1930-1946, Congress observed Independence Day on 26th January, as they made the 'Purna Swaraj or Declaration of the Independence of India' declaration on the same day. The celebrations before Independence were held in a peaceful manner, without any speech or extortion, were the participants took a 'Pledge of Independence'. Only on 1947, British declared Independence on 15th August and from then we are celebrating the Independence Day on the same day. The Constitution Of India came into effect after Independence and 26th January was declared as Republic Day.
Celebration:
Independence Day is one of the National holidays observed in all the states and union territories of India. On the eve, President of India delivers the 'Address to the Nation' and Prime Minister Hoists the flag on Red Fort, Delhi. Twenty-one gun shots are fired in the honour of the occasion. Prime Minister addresses the nation and tells about previous year's achievements; raise important issue and calls for further development. The 'National Anthem' is being sung, followed by Parades of different Indian Armed forces and paramilitary forces. Flag hoisting ceremony and cultural programs are held in different government, non-government office and also in schools and colleges.