An Indian Animated comedy Television Series, Motu Patlu, was introduced in India on 16 Oct 2012. Written by Niraj Vikram & Created by Harvinder Mankkar, it starts aired on Nickelodeon. This comedy show is produced by Viacom and Cosmos Maya Studios. The show's theme revolves around two friends named Motu and Patlu, who reside in a fictional locality known as Furfuri nagar. In the latest series, they live in a new fictional locality called Modern City. It is considered to be the most watched and liked children's series in India. Let's check out all the characters from the cartoon show with their names, descriptions and pictures.
Motu Patlu: List of Cartoon Characters
1. Motu (Main Character)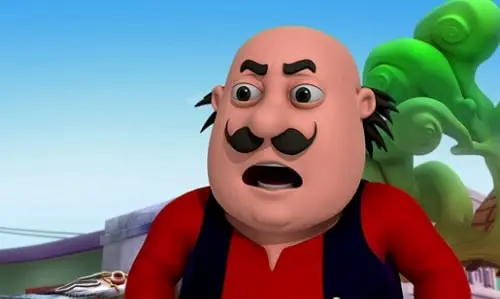 A fattish man named Motu is known as this show's central role. He mostly eats samosas to gain the physical strength to defeat their normally superior rivals. This special food item also increases his strength, speed, intelligence, and vision while enabling him to lift vehicles and stones. Many times he gets into problems due to his clumsy actions. Patlu is his best friend. Unlike Patlu, he always tries to earn money using easy ways. Apart from this, he loves to eat and have fun. Speaking of appearance, he has hair on his ears and baldness on his head. The attire is a red tunic with a blue vest, black shoes, and yellow leggings.
2. Patlu (Main Character)
A thin man named Patlu works as one of the series' central roles. He is one of the smartest men in the city, though he also gets into a lot of problems with Motu most of the time. Eating samosas is not his hobby, but he loves reading newspapers and gaining knowledge. He is not strong enough. Speaking of appearance, he wears a yellow tunic, orange leggings, brown shoes and brown glasses, has a ponytail and a bald head.
Other Characters:
1. Doctor Jhatka
An eccentric scientist, Dr Jhatka is also a doctor, engineer, inventor and scientist. He possesses all kinds of skills and has a Punjabi accent. Most of his inventions are successful and effective, but they also land someone in trouble. In most of the episodes, he seems to be in a flying yellow car. The role is noted for his appearance, which includes a low hairline, while he wears a purple necktie, green shirt, black shoes and blue jeans.
2. Inspector B. Chingum
The police inspector of the show believes that no criminal can escape his sight. He usually catches thieves and criminals with the help of Motu and Patlu. Sometimes he also takes the help of Dr Jhatka with the help of his inventions and gadgets. Inspector B Chingum has a strong South Indian accent.
3. Ghasitaram
Ghasitaram often claims to possess 20 years of experience in various things. He has Bengali Accent and hails from Ghatal, situated in West Bengal. In a few episodes, he called Motu and Patlu for their help. Ghasitaram works as a lab assistant with Dr Jhatka and helps him with experiments, and convinces both of them. Talking about his outfit, he is wearing a purple coloured dhoti, a cobalt blue coloured tunic and a dark brown coloured vest.
4. Boxer
Motu's neighbour, Boxer, describes an aggressive man. He wears a white tank top and boxing gloves along with red shorts having yellow stripes. He can break through walls due to being powerful and physically strong.
5. John
John is the main character of the show who wants to become a Don. He makes plans but always fails, as a result of which he is arrested or taunted by other people. Unlike normal thieves, he is neither afraid of the police nor of Motu and Patlu.