A French adventure cum comedy animated TV cartoon, Oggy and the Cockroaches has become a favourite of kids and youngsters. Its popularity can be seen from producing 7 seasons consisting of 169 episodes. The show is directed by Olivier Jean Marie and produced by Jean-Yves Raimbaud.
Along with France, the show has been broadcast in other countries, such as the Philippines, Arab countries, Italy and India. Season 1 and Season 1 originally aired on France 3, Seasons 3 and 4 on Kanal+Family and Season 5 on Gully, as well as reruns on other French networks such as Tiki, France4, Canal J, and Télétoon+ Went. If you are also a fan of cartoons like Oggy and the Cockroaches, getting to know all the characters with this blog can be fun and exciting. Below is a list of some notable cartoon characters that appeared on the show.
Oggy and Cockroaches: List of Cartoon Characters
1. Oggy (Main Character)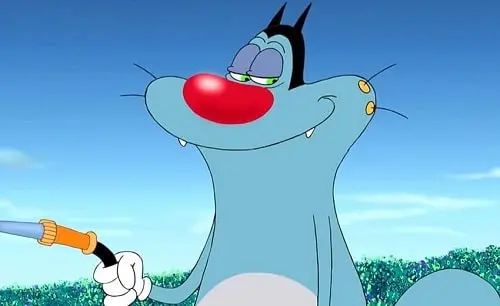 Oggy is a cat and a leading character in the show. Speaking of its appearance, it has green eyes, a light blue body, a green tummy, a red nose, and white feet. His favourite pastime is watching television or doing household chores. Despite the frequent chaos and problems caused by the cockroaches, Oggy has a hate-love bond with them because they have lived together for a long time. He starts thinking about the three cockroaches and their jokes when alone in the house.
2. The Cockroaches (Main Character)
A group of three cockroaches named Marky, Dee, Dee and Joey loves playing pranks and tricks on Oggy and his brother named Jack. Likewise oggy, they begin to miss them if they leave. Talking about the appearance, they have vibrantly coloured sclera with pointed, long black noses, wide heads, and black feet. In addition, they have black caps that look like antennae.
Marky: Of the three, it has the tallest stature, green head, silver body and pinkish-red eyes. Like the other two cockroaches, Marky also liked to do mischief. He pranks Oggy with his partner-in-crime, Dee Dee. Markie's hobbies are reading books and dating puppets.
Dee Dee: The youngest cockroach, Dee Dee, has an orange head, dark blue body, and green eyes. He is hungry all the time; as a result, he eats things and large animals that are not edible. Sometimes it is seen that his feet stink so much that their juice is toxic.
Joey: This cockroach has a pink right eye, a purple-pink body and a lavender head. Even though he is short in stature, Joey is very clever and intelligent enough to always have plans in mind. Sometimes he goes alone for fun because Dee Dee and Marky often think his plans are useless.
Other Characters:
1. Jack
Another cat in the show, Jack, has yellow eyes, an olive-green body, a pale pink tummy, yellowish eyes, and white feet. As opposed to Oggy, he is violent, arrogant, and short-tempered. He loves reading chemistry and physics and generating large machinery and tools.
2. Monica
Jack's love interest and Oggy's twin sister, Monica, are famous for being active and love to face physical obstacles like bungee jumping and sky diving.
3. Bob
Bob is a fierce brown bulldog and neighbour of Oggy, who has serious anger problems. This can happen because when Oggy and the cockroaches do something that results in his hair being shaved, he is crushed, or his house is destroyed.
4. Olivia
A white cat with having yellow bow over her head is an Olivia character in the show. She becomes Oggy's gf in Season 4.
5. Oggy's Granny
Appear in several episodes such as Granny's Day, Oggy's Grandma often gets short-lasting bursts of energy from caffeine which help her in defeating the cockroaches team.