With the increasing use of technology in our daily routines, it's important to make sure that the children in our lives engage in meaningful activities – be it in the outdoors, with other people, or simply something that gets their creative juices flowing.
And what better way to do so than by organizing an event for them? Now, whether you're a parent, an uncle or aunt, or a school teacher, there's got to be some apprehension towards event planning, especially when it's for an audience that can tend to be picky!
But with the right guidance and resources, you can hack event organizing for children in no time, managing to pull off an event that'll gain interest and appreciation from everyone around!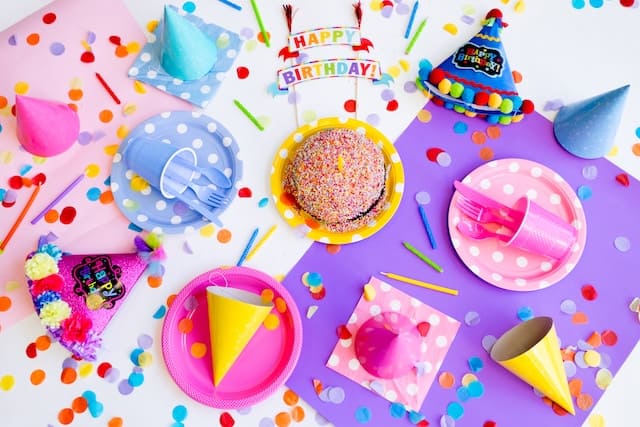 Here's how to organize an event for children in 4 simple steps:
1. Get Ticketing!
Kids love to feel like they're important, and giving them tickets for an event helps them get that grown-up feeling that they just can't get enough of! And it'll also be great for keeping track of how many children are attending, making life easier for the organizing team.
Of course, your tickets should be on brand with the event, and if design isn't your strong suit, then you can always turn to PosterMyWall for designing tickets with the help of their professionally designed ticket templates! Not only is the platform extremely easy to use, but it also has a wide variety of designs – allowing you to choose one that fits perfectly with your children's event theme.
And the best part is that all of PosterMyWall's ticket designs are fully customizable, so you can easily switch around the color scheme, the font, or even the positioning of different elements to achieve your desired look without the stress of designing from scratch!
2. Go with Kid-Friendly Food
You never know with kids – some days they'll eat just about anything you throw at them, and then at other times they only want cut-up nuggets. So, at children's events, it's best to play it safe and go with food that is known for being kid-friendly!
Think pizza, nuggets, fries, cupcakes, and the like. Not only is this type of food relatively easy to eat, but it's pretty much suited to everybody's tastebuds, garnering few complaints, if any. And of course, it goes without saying that you should also be wary of certain foods, especially those related to severe allergic reactions such as nuts.
In addition to the food, make sure to keep lots of disposable plates and napkins on hand to cater to the mess that is eventually going to occur when kids get to eating!
3. Goodie Bags for the Win
Remember, every child coming to your event will have a different allowance or spending budget set out for the day – and some may be without one at all. This can often cause feelings of being left out or sadness when children see their friends buying toys and playing games that they can't.
A good – and not too expensive – solution to this is to make goodie bags! A childhood classic, goodie bags often contain fun eatables – chocolates, candy, and crisps – along with small toys and other fun items such as stationery, stickers, and bands. Distributing these goodie bags to every child who attends will not only help increase excitement among them, but it'll also help those instances of feeling left out or different.
4. Remember the Parents!
Of course, if you want any event to be a success, you need to think about all of the people that are attending, and that means accounting for parents at a children's event!
First things first, make sure there are plenty of places to sit down where parents can take a breather and rest their feet. Another important element is to have capable event organizers on the scene to help out with kids as they play various games and run about.
And of course, not to forget the food! While having kid-friendly options is a must, it's best to stock up on a few offerings that would fare well with the parents – after all, there are only so many chicken nuggets one can stuff down. Some failsafe options for the parents would be hotdogs, burgers, and not to forget, BBQ!
So, if you're looking to organize a children's event, then these tips are your go-to reference point. Just be sure to bring your own creativity and to let it shine through with your original ideas!