The state of Andhra Pradesh is the "Kohinoor of India" due to its thriving textile industry. The state's distinctive fashions are a reflection of the heritage and culture that have molded the way of life there.
As a result of the genuine fascination with the wide variety of Andhra Pradesh attire, here is a compiled list of the most well-known types of traditional clothing worn by men & women there.
Traditional dress for men
Dhoti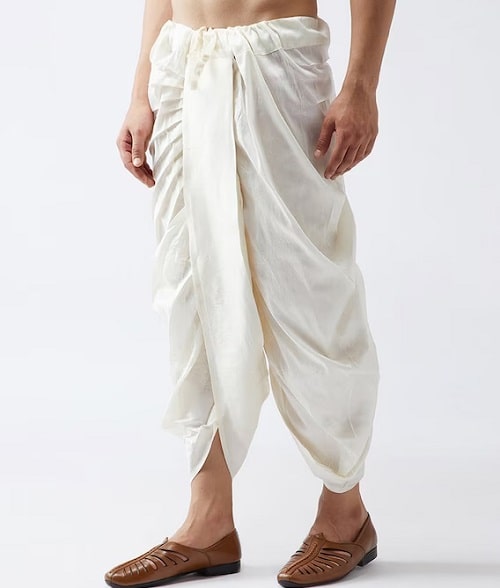 The dhoti is a traditional garment worn by men in India and has gained widespread popularity in recent decades. A big dhoti is worn around the waist & tucked from the front, between the legs.
The length can be altered to suit the wearer. Some minor variations may exist depending on location, but fundamentally, the same principles apply.
 A long piece of fabric worn slung over the hips however, Andhra Pradesh offers a wide range of experiences. It is possible to find a Dhoti that is both fashionable and well-designed.
Lungi
The lungi resembles the dhoti in certain ways. It's an oversize garment worn around the waist. It's just a long strip of fabric that males wrap around their midsections. It provides the wearer with ease, style, and comfort. People in rural parts of Andhra Pradesh don this not only for weddings but also for festivities.
Kurtas
The hemline of a kurta reaches the knees. Most of them are constructed from cotton, while the higher-end ones are sewn from luxurious materials like silk.
Shirt
Andhra Pradesh men traditionally wear kurtas, but shirts have become a major part of the region's wardrobes in recent decades. Not only in our country, but worldwide. T-shirts have mostly supplanted button-down shirts among young people.
For bridegroom
The groom is decked out in a kurta and dhoti. Both of these outfits feature luxurious materials like silk. The groom also sports a second garment, which is slung over one shoulder. All of the items of apparel we just listed come in white or cream.
Traditional dress for women
Langa Voni
Girls in Andhra Pradesh typically wear this kind of dress. The components of a Langa Voni outfit are a skirt, top, and scarf.
However, a wider variety of forms and patterns are now commercially available. Women might be seen donning a wide variety of Langa Voni. Some ladies like to wear bulky blouses, while others prefer simpler styles. The skirt is the same way.
Saree
In Andhra Pradesh, ladies traditionally wear sarees. They embellish it with various forms of traditional jewelry meant to boost a woman's beauty.
Kalamkari saree or Salwar Kameez
Kalamkari is the name of both the fabric and the attractive saree that is worn by women in India. In addition to the unique fabric, these sarees are also notable for another unique feature. Design excellence.
The patterns on Kalamkari saris are meant to resemble mythical creatures. There are pictures that represent a tale or a meaning. This, too, evolved over time.
Salwar Kameez and other outfits were made from the fabric. Nonetheless, Kalamkari is losing ground to many other, less expensive materials. To find clothing produced from this material, though, you'll have to venture into the less populous regions of Andhra Pradesh state. The artwork comes with its own caveat. This clothing features intricate Bidri embroidery.
Variety of sarees
Pochampally sarees, also known as "Ikkat," are made in a small town in the Nalgonda region of Andhra Pradesh.
Silk or cotton is hand-woven into beautiful sarees called ikkat. They have classic patterns and ornamentation.
Dharmavaram sarees
Dharmavaram, in the Anantpur region of Andhra Pradhesh, is well-known for its exquisite heavy bridal sarees.
These sarees are woven from silk and have a zari brocade border and pallu in contrasting colors. Exquisite designs and color combinations, including yellow, pink, maroon, green, blue,  etc., are featured on Dharmavaram sarees.
Uppada sarees
Uppada sarees are made by locals in the beachside town of Uppada. Beautiful patterns in silver and gold zari are put on cotton cloth to create these sarees.
Traditional Uppada sarees are made in the 'Jamdani' manner.
Gadwal sarees
The Mahbubnagar region of Andhra Pradesh is home to the artisans who create Gadwal sarees. The zari pallus and zari borders on these sarees are what really set them apart. Cotton is used for the saree's main body.
Gadwal sarees are manufactured in a variety of bright colors and are woven in the Kupadam style.
Bridal wear
The bride is dressed in a crimson silk Dharmavaram saree.
This bridal saree is a picture of elegance. The bride's entire appearance is elevated by the combination of the brilliant red color and a lovely pallu set beautifully and decorated with gold plated craftsmanship.
Conclusion
These are the well-known Andhra Pradesh traditional outfits for both males and females. The variety of these aesthetics reflects Andhra Pradesh's rich heritage.