[vc_row][vc_column][vc_column_text]
Wow For the First time Shahid Kapoor shared his Cute baby Daughter's Blurry Image on Social Media gone Viral. Shahid's Fans were waiting for this Moment since many days.

Till Now Shahid Kapoor Never shared her Baby Daughter's Snaps Over any Social Media Sites. No one ever allowed y Shahid to Click and share Misha's Pictures in Social Media sites. After a long time finally Shahid kapoor has Given us a glimpse of his little angel Misha.  He shared a beautiful snap of himself holding his Daughter with a Sunset Background.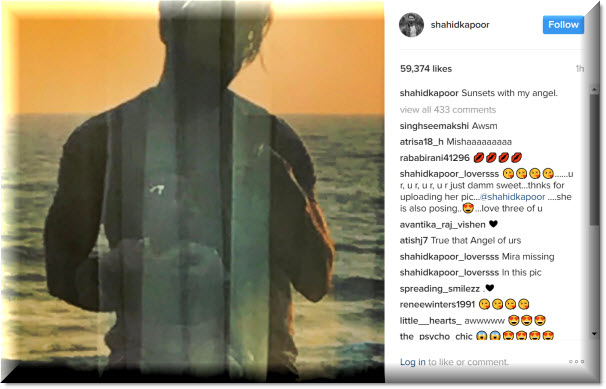 He captioned the image beautifully "Sunsets with angel" that was an amazing moment when we all saw a Glimpse of Shahid's Daughter Misha. We are posting that Facebook status here for you.
Though its a blurry picture we can't see her face properly but we can't deny that Cute little Angel Misha is one cute kid to adore. Here are some beautiful Snaps of Shahid Kapoor, Mira Kapoor and Their Baby Daughter Misha.
[/vc_column_text][vc_gallery type="nivo" interval="3″ images="56,58,57,59,60,61,62″ css_animation="bounceIn"][/vc_column][/vc_row]