Zach Bryan is an American singer and song writer hailing from Oklahoma. He is mainly a specialist in country music but his music also features rock and folk. Bryan is known for his poetic lyrics, raspy voice and soulful renditions. His debut major-label album made it to the US Billboard 200 and was placed at number 5.
Net Worth
Zach Bryan's net worth is estimated to be USD 10 million. His annual income is estimated to be around USD 1 million.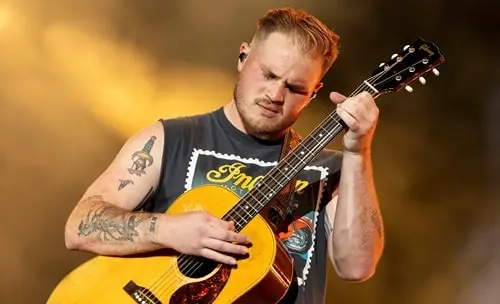 Early life
Zachary Lane Bryan was born on 2nd April 1996 at Okinawa in Japan where his family was stationed with the US Navy. He later returned to USA and grew up in Oologah, Oklahoma. Zach joined US Navy at the age of 17 in accordance with his family traditions. He served with the US Navy for 8 years and reached the rank of Aviation Ordnanceman Second Class.
Music career
Zach Bryan had started writing songs right from the age of 14. While serving in the Navy, he wrote songs for his own pleasure. In the year 2017, Zach started his own YouTube channel and started uploading his music videos which were shot using his iPhone. He attained popularity when his song "Heading South" went viral.
Zach Bryan's debut album titled "DeAnn" was dedicated to his late mother and was released on April 24, 2019. His second album titled "Elisabeth" was released on May 8, 2020. Bryan's first public concert was held in Medford, Oregon on October 2019. He appeared on the popular American country music radio broadcast called Ole Opry on April 2021. Around the same time, he signed a contract with Warner Records to release his music videos. Zach was honourably discharged from the US Navy on October 2021.
Zach Bryan's debut major-label album named "American Heartbreak" was released on May 20, 2022. The album reached number 5 in the US Billboard 200 and became the biggest first week for a country music album in 2022. Later in the year 2022, he released three more albums titled "Starved", "Greatest Day of My Life" and "Fifth of May". Zach recorded a live album on Christmas day in 2022 titled "All My Homies Hate Ticketmaster".
Zach Bryan released his self titled album on August 2023 which reached number 1 on the US Billboard 200. On September 2023, he released "Boys of Faith" featuring Bon Iver and Noah Kanan.
Zach Bryan was awarded the Academy of Country Music Award for New Male Artist of the Year on May 2023.
Age
Zach Bryan's date of birth is April 2, 1996. Thus, his age as of 2023 is 27.
Personal life
Zach Bryan was born to Dewayne Bryan and Annette DeAnn Bryan. He has a sister named Mackenzie. He married Rose Madden in the year 2021. However, they have divorced. Bryan has been dating a podcaster named Brianna LaPaglia since July 2023.
Zach Bryan got on the wrong side of the law when he was arrested by the Oklahoma Highway Patrol on September 2023 for obstruction. He was later released on bail.