Only a few shows have snagged our attention and tickled our funny bones as much as 'American Dad!' This show has a recipe unlike any other, take a large dollop of irreverent humor, mix in a heavy dose of sharp satire, and add a dash of out-of-this-world fun (literally!). Voila, you have a pop culture sensation that's left a lasting imprint on our screens for many years now. Every character of this show is an explosion of personality and downright hilarious in our opinion. And today is the day when we introduce you to every vibrant character of this awesome show. Let's get going now.
American Dad! Show Main Characters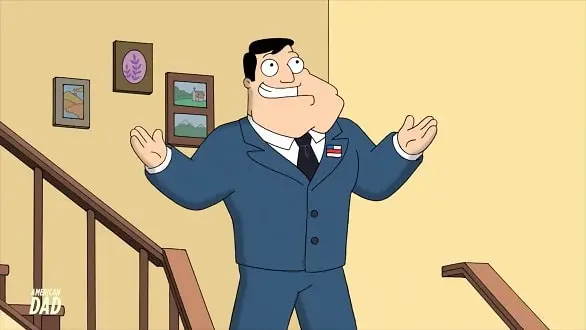 Stan Smith: Stanford Leonard "Stan" Smith is the larger-than-life star of "American Dad!" He's brought to life by Seth MacFarlane's over-the-top, macho voiceover. Stan brings home the bacon for the Smiths, working as a CIA agent. Over the show's history, Stan's gone from a super-straight-laced type to someone with a wildly unpredictable side, packed with crazy tendencies.
Francine Smith: Francine Lee Smith is the better half to Stan and the world's okayest mom to Steve and Hayley. Wendy Schaal lends her voice to this character who's often the one pointing out the family's screw-ups.
Steve Smith: Steven Anita "Steve" Smith, is Stan and Francine's high schooler. Voiced by Scott Grimes, Steve may come off nerdy and a bit tender-hearted, but he's got a big head and a larger-than-life personality.
Hayley Smith: Hayley Dreamsmasher Smith-Fischer, is Stan and Francine's flower-child daughter. Rachael MacFarlane voices Hayley, who's all about speaking her truth and fighting for her beliefs. Hayley started off the series super passionate, but they've dialed her back a bit in the later seasons.
Roger Smith: Roger Smith, also played by Seth MacFarlane, is the eccentric, pansexual alien bunking in the Smiths' attic. Roger's a little off the rails, indulging in all sorts of hilarious misdeeds and antics.
Klaus Heissler: Voiced by Dee Bradley Baker, Klaus Heissler is the family's somewhat gloomy pet goldfish. Klaus used to be an East German Olympic ski jumper before the CIA switched his mind with that of a goldfish. Now he's stuck in the fish bowl, quite literally.
Jeff Fischer: Jeff Fischer is Hayley's super chill, perpetually stoned boyfriend-turned-husband, voiced by Jeff Fischer. Jeff's got no real goals or talents to speak of, but he's head-over-heels for Hayley's mom, Francine.
Rogu Smith: Rogu, brought to life by Dee Bradley Baker, is a weird little creature born from Roger's tumor. Rogu is now a part of the Smith's household, often tagging along with Roger and showcasing some peculiar abilities that are eerily similar to Roger's.
Recurring Characters
Schmuley "Snot" Lonstein
Toshi Yoshida
Barry Robinson
Avery Bullock
Principal Brian Lewis